Description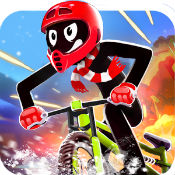 Stickman Trials v1.1.4 Mod APK for Android.
Test your bike riding skills with a wide selection of bike classes to choose from! We've got everything from Mountain and downhill bicycles, motorcycles and cross bikes, mopeds and choppers.
Make stunts and tricks, use gravity platforms and speed-boosters, compete with the ghost of your best ride to earn more coins and challenge the world record to take the top spot on the leaderboards!
Unlock more than 11 unique two-wheeled techniques, use upgrades to improve your bike's characteristics. Reach the 5th upgrade level to ride faster, perform extreme stunts, avoid falls and crashes, climb mountains and do some serious downhill racing!
Stickman Trials offers more than 120 tracks in 4 unique terrains – Forest, Desert, Volcano and the Arctic. Each new terrain differs in complexity, each with unique features, springboards, jumps and obstacles! Slippery ice stops you from braking sharply, quicksand will slow you down and if you will fall into the lava, your bike will burn!
Play Stickman Trials with your friends, complete daily challenges, receive bonus coins every day, win in races and have fun in one of the most exciting free bike game!
GAME FEATURES:
• 150 different levels of tracks with various complexity
• Wide variety of bicycles, motorcycles, MTB, DH, BMX and other two-wheeled rides
• Multiplayer: compete with friends or people from all over the world
• Realistic bicycle and motorcycle models with realistic physics
• Incredible stunts and crashes
• Amazing colorful graphics
What's New
VERSION 1.1.4
– new UI hub and UI improvements
– new discount offers added
– multiplayer bug fixes and improvements
– leaderboards bug fixed
– new game icon
– any purchase remove ads
Mod info:
1. Infinite Coins
2. Infinite Helmets
3. Unlock All Bikes
4. Unlock All Area
Download [Google Play]
Stickman Trials v1.1.4 Mod APK | Mirror 1 | Mirror 2