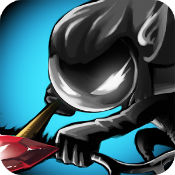 Stickman Revenge: Shadow Run v0.9 Mod APK for Android.
Stickman Revenge – You will engage in the Revenge Adventure of the Stickman and save Stickman Village once again. Stickman Village of being an exotic disease caused by the curse of the Evil Sorceress. Legend has it that if Stickman want to neutralize witchcraft, they should have to collect five ingredients in five dangerous places.
Players will be transformed into the Stickman in Stickman Revenge: Shadow Run to obtain the ingredient, neutralize the Sorceress's Magic and revenge for the Villagers. Players will have to control Stickman overcome dangerous obstacles but also exciting.
#### Features:
Ø The game with flip mechanism helps runner dodge obstacles and increase the diversity of the trap
Ø Each different Stickman have unique abilities to support during the run.
Ø Character upgrade system helping Stickman run farther.
Ø The item support on various roads.
Ø Story Mode Gameplay includes 5 maps corresponding to 5 materials that Stickman must collect.
Ø Endless Mode: Stickman runs continuously with no stops
#### How to play:
Ø Control Stickman running overcome the obstacles on the way
Ø Collect coins to buy items to help Stickman pass easier
Play Stickman Revenge to transform into the Stickman find the justice, and revenge for the villagers.
What's New
– Fix the Endless mode content more reasonable
– Rearrange the guidance letter in Tutorial
– Change size camera view
Download [Google Play]
Stickman Revenge: Shadow Run v0.9 Mod APK | Mirror 1 | Mirror 2

Stickman Revenge: Shadow Run v0.8 Mod APK | Mirror 1 | Mirror 2