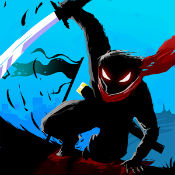 Stickman Ghost Warrior v1.0.2 Mod APK for Android.
Become a mature bravo samurai to revenge stickman betrayed. With swords and bow he is going to defeat all monsters and bosses. Let's upgrade and equip weapon and get the intervention help of fairy queen and skyrim to fight demon, godzilla boss. Simple controls and hardcore gameplay you can perform amazing stunt to kill your stalking enemy.
Feature:
– Realistic wobble, ragdoll physics.
– Explore many different tight maps: canyon, Ha long bay, paris in world war with increasing challenges and even big bosses with a loot of dmg.
– Amazing hurt sound , slash effect and hardcore gameplay.
– Awesome combos with his equipment are shaolin priest staff, clap, cross and swords.
– The various continuous functions including choppy air combo appear.
Fight hard and help Stickman bravo warrior fight like a stalking ninja to protect and revenge for his relatives and kingdom by destroy evil and monsters.
If you like this game please rate and do not forget comments to us about Stickman Ghost fighting game!
What's New
– New weapons, new level.
– Add more features.
– New UI graphics
Stickman Ghost Warrior v1.0.2 Mod Info:
Download [Google Play]