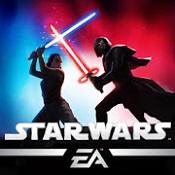 Star War Galaxy of Heroes v0.20.615169 Mod apk for Android.
Collect your favorite Star Wars characters, like Luke Skywalker, Han Solo, Darth Vader, and more, from every era – then conquer your opponents in epic, RPG-style combat. Build mighty teams and craft the best strategy to win battles across iconic locations to become the most legendary hologamer in the galaxy!
Star Wars Galaxy of Heroes v0.20.615169 Mod apk features
CREATE YOUR ULTIMATE TEAM
Build powerful light and dark side teams with both Jedi and Sith heroes and other characters from the Star Wars universe. Make strategic choices and pick characters with complimentary abilities to construct squads and engage in RPG combat like never before!
COLLECT ICONIC HEROES
Collect characters from the original trilogy and prequel films, plus animated TV shows like Star Wars: The Clone Wars and Star Wars Rebels – and more. True to the RPG genre, each new hero has multiple powerful attacks and abilities!
TRAIN POWERFUL CHAMPIONS
Make tactical decisions and equip your characters, from Darth Vader and Boba Fett – to Lando Calrissian and Leia Organa, with powerful gear to enhance their damage. Unlock special leader abilities to buff your team and unleash moves like Darth Sidious's Force Lightning, Chewbacca's Wookiee Rage, and more.
FIGHT IN LEGENDARY LOCATIONS
Complete epic missions on Hoth, Bespin, Tatooine, Coruscant, and beyond. Unlock special characters to play through in light and dark side campaigns
What's New in Star Wars Galaxy of Heroes v0.20.615169 MOD apk
Hey, Galaxy of Heroes fans! We've made a few Game tweaks to enhance your experience in battle and beyond.
Have fun and thanks for joining the fight!
Star Wars Galaxy of Heroes v0.20.615169 MOD info:
-MENU MOD
-DAMAGE MULTIPLE
-DEFENCE MULTIPL
Installation Instructions:
Non-Root users – Will have to play as guest.
1. Click and download the "No Root" mods below.
2. Install the downloaded APK.
Root users – Allows Google Play login.
1. Install Clean APK or Google Play Version – 0.10.279290
2. Launch the Game and login with your Google Play account
3. Close Clean APK or Play Store Version and download the Modded "Root" APK
4. Install Lucky Patcher (If you do not already have it installed), give it root permissions and go to toolbox. Scroll down until you find "Patch to Android" tap it. Check the first 2 boxes and apply.
5. Now install the Modded Root APK over Clean APK or Play Store version
6. Launch the game and it will log you into Google Play.
Downloads: [Google Play]
Old Versions
Old Versions
We don't know if there's a mod coming out or not, so don't wait. We will be posted one if we managed to mod it.
*You might have issues on Emulators, you just have to reload it a few times as it downloads Data. Not mod related.
*All mods have tested on OnePlus3/Android N, with 0 issue. Upgrade your device,upgrade your OS.
Mod 1: – Play smart. Don't go crazy with this in raids.
– God Mode
Mod 2: – wouldn't use in raids.
– God Mode
– Increased Player Damage (50%)
Mod 3: – This mod would be a bit safer to do raids with. Just don't rack up to unbelievably before letting yourself die. To keep beating a dead horse. Use with moderation. Don't draw attention to yourself.
– Increased Player Damage (50%)
– Decreased Enemy Damage by Half.
– Decreased Enemy Heals by Half.
Mod 4: – Safest of the mods. Just don't be a cottonheadedninimuggins
– Decreased Enemy Damage by Half.
– Decreased Enemy Heals by Half.
Mod 5: – The "So you wanna be banned" edition.. you guys keep asking for it
– God Mode.
– Increased Player damage by a lot.
– NPC's can't heal.
* Everything works fine. There's nothing to fix.
Everything has changed in the new version, so the mods we are posting will be called beta testing mods. They might not work perfectly,so please don't complain, but your feedback is always welcome.
Special thanks to "black3rn3ll" for providing a hell lot of information (functions,offsets) to helping with these mods.
We are still working on other features, please be patient.
Beta v1: Always Critical
Aug 31: Remake v4 and v5 both rooted and no root versions. If still don't work for you, well, then I don't know.
Galaxy of Heroes v0.9.242934 Clean APK | Mirror 1 | Mirror 2 | Mirror 3
No root versions:
Root versions:

Sorry for the delay! Enjoy the game!
Galaxy of Heroes v0.8.225590 Clean APK | Mirror 1 | Mirror 2 | Mirror 3
No root versions:
Root versions: (fixed)

Android N versions: (Work for other Android versions too)
————————————————————————————-
Fixed versions for Android N:
————————————————————————
Update: All fixed! Please re-download!
(Mirror 1) Google Drive links added, now you can enjoy faster and cleaner downloads.