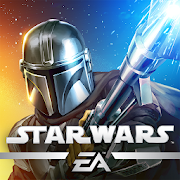 Star War Galaxy of Heroes Mod apk latest version download for Android.
Collect your favorite Star Wars characters, like Luke Skywalker, Han Solo, Darth Vader, and more, from every era – then conquer your opponents in epic, RPG-style combat. Build mighty teams and craft the best strategy to win battles across iconic locations to become the most legendary hologamer in the galaxy!
Star Wars Galaxy of Heroes Mod apk features
CREATE YOUR ULTIMATE TEAM
Build powerful light and dark side teams with both Jedi and Sith heroes and other characters from the Star Wars universe. Make strategic choices and pick characters with complimentary abilities to construct squads and engage in RPG combat like never before!
COLLECT ICONIC HEROES
Collect characters from the original trilogy and prequel films, plus animated TV shows like Star Wars: The Clone Wars and Star Wars Rebels – and more. True to the RPG genre, each new hero has multiple powerful attacks and abilities!
TRAIN POWERFUL CHAMPIONS
Make tactical decisions and equip your characters, from Darth Vader and Boba Fett – to Lando Calrissian and Leia Organa, with powerful gear to enhance their damage. Unlock special leader abilities to buff your team and unleash moves like Darth Sidious's Force Lightning, Chewbacca's Wookiee Rage, and more.
FIGHT IN LEGENDARY LOCATIONS
Complete epic missions on Hoth, Bespin, Tatooine, Coruscant, and beyond. Unlock special characters to play through in light and dark side campaigns
What's New in Star Wars Galaxy of Heroes MOD apk
A brand new Game mode is here: Conquest! Do you have what it takes to conquer your way across the Galaxy? Choose your path across a galactic map, participate in combat missions, collect powerful Data Disks, and topple menacing Bosses! We've also introduced a new Conquest Store feature with an exclusive unit and consumables that can be used to boost your squad – or recover Stamina, a new mechanic introduced in this update. The first Conquest event starts soon!
Star Wars Galaxy of Heroes MOD info:
-MENU MOD
-DAMAGE MULTIPLE
-DEFENCE MULTIPL
Installation Instructions:
If you have my old mod installed skip to step 5
Link your account to any social (simply backup your account)
Uninstall your current version
Download GOH_Config.txt, attached below!!!
Place GOH_Config.txt in your INTERNAL STORAGE MAIN DIRECTORY  (File must NOT be placed in any folders! On device it is called INTERNAL STORAGE, emulated/0 and sometimes SDCARD
On Emus most of the times it is SDCARD)
Download & Install the MOD
Allow STORAGE permissions to Game so it can read the TXT values
How to use:
1.Open the TXT file with any text editor
-Line 1 is Damage Multiplier
-Line 2 is Defense Multiplier
2.Change the value on each line, save & enjoy!
-Min input value is 1
-Max input value is 10
3.Values can be changed while playing too and will take effect on next ATK too!
Downloads: [Google Play]
Star Wars™: Galaxy of Heroes v0.23.764287 Mod APK