Description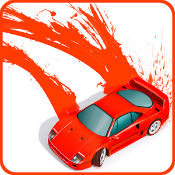 Splash Cars v1.5 Mod APK for Android.
** Over 2 million players worldwide! **
* Reached TOP #10 in almost every country in the world all thanks to you! *
Tired of the everyday grey? Color the world in a ride of your life!
Riding a splash car is exactly what you'd expect. Fun! Paint oozes from your machine leaving a colorful trail behind.
But not everybody likes fun. The cops are always watching and will chase you to the ends of the world, when they see you drive free. They want to bust you for shaking up the established order.
Don't let them! Be quick and break the chase. Now's your chance to fully express yourself through color and style.
* Race for freedom of expression.
* Choose your own style from a range of original splash paint cars.
* Grow the racy art challenge in new and constantly growing neighborhoods.
* Use bohemian power-ups to sabotage cops and supersize your car.
* Convert public servants to aid you in your cause.
You are special. You broke free from the shackles of conformity. You have the power to free other people as well. Paint their world a brighter color, convince them to join you in your cause.
You are a visionary on a creative mission. Lead the way and people will follow.
What's New
* Splash Cars is now a multiplayer game!
* New Splash Car Paint Jobs
* Localized to five world languages
* More ways to win free cars, car paints, blueprints and coins, and extend your battery capacity.
<< 2 vs 2 Games >>
Team up and head on paint splashing against the opposing team!
<< Two Level League Events >>
Collect coins and blueprints in each game and win free cars, car skins, extended battery capacity and more.
Each Splash Car now comes in three paint jobs. Enjoy the new looks!
Mod info:
– Unlimited Coins (Earn Some)
– Unlimited Blue Prints (Earn Some)
– Unlimited Power Ups Time
Download [Google Play]