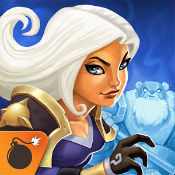 Spirit Lords v1.0.2 Mod APK for Android.
Uncover the secrets of a long forgotten past and become the next Spirit Lord in the most immersive action RPG to hit mobile devices.
A thousand years ago a war bridged the Spirit Realm and the physical world, destroying a vast empire. All that remains is one last human city, desperately attempting to rebuild from the ruins. However, the war may not truly be over…
Spirit Lords is a multiplayer, mobile action RPG that introduces an original world where the spirits of the dead are the key to the survival of the human race. Discover the secrets of a long forgotten past as you collect powerful spirits and harness each one's unique power for use in battle. Control the past to save the future. Be the first to uncover a new land, overcome fantastic monsters and dig up treasures in the ruins of past civilizations. You're an explorer investigating the ruins and mythology of the old Empire when an ancient evil threatens all you hold dear. You must become the first Spirit Lord seen in 1,000 years or risk your world ending.
FEATURES:
ADRENALINE ACTION COMBAT WITH INTUITIVE TOUCH CONTROLS
– Swipe, drag, and tap your way through combat with simple and powerful gesture controls
– Unlock over 200 unique combat abilities by collecting and upgrading your Spirit powers
– Battle dozens of unique races and vile bosses through a variety of landscapes; from lush forests to subterranean caves and crypts
INCREDIBLE CHARACTER CUSTOMIZATION & GEAR
– Choose the class that appeals to you – a brutal Barbarian or a tactical Sorcerer
– Create and customize your hero with 300,000+ unique combinations
– Equip your hero with thousands of pieces of armor and weapons with magical properties
AN EPIC, NEVER-ENDING STORYLINE TOLD WITH AAA ART FIDELITY
– Experience a fully original world and unique story
– Discover the mysteries of the Spirit Realm as new Acts are added
– Explore a visual tour de force with console quality graphics
4-PLAYER SIMULTANEOUS MULTIPLAYER CO-OP ACTION
– Take on the biggest challenges with your Guild or new friends with simultaneous play!
– Find a party anytime for one quick game or an extended session
Spirit Lords v1.0.2 Mod Info:
Download [Google Play]