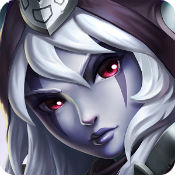 Spirit Guardian v2.3.6 Mod APK for Android.
"As the shadows gather, your fight is just beginning…"
In an era long ago, the Lord of Discord invaded our world with his dark legions and spread war and destruction across the land. The Spirits, protectors of our world, rose up to stand against the raiders. An epic conflict between the Spirits and the army of Chaos erupted. It lasted for decades until finally, during a critical moment in the war, the Spirits managed to seal the Lord of Discord within an eternal dream.
Peace returned and the tragedy became a distant memory. But something has been amiss on the frontiers recently. A sinister evil stirred in the shadows, until suddenly, the chaotic power awoke and the Lord of Discord unleashed his full wrath upon the world. Seeking to eliminate the Spirits before they could mount a defense, the Lord of Discord plotted to bind them in their own dreams. Separated and overwhelmed, the Spirits quickly fell one by one. All hope seemed lost…
You, my champion, are this world's last beacon of light. Rush into the Eternal Dream, free the mighty Spirits and save our world!
First-ever 3D real-time Action RPG mobile game for iPhone, iPod Touch and iPad. Free to download from the App Store. Assemble and customize your squad with your favorite heroes to fight against the chaotic raiders! How you play is entirely up to you! Join now and play with your friends!
Innovative and cool features include:
– High-paced real-time 3D ARPG with stunning visuals and gorgeous animations and effects
– More than 70 distinct Heroes to collect and customize
– More than 300 unique skills at your disposal to unleash devastating combos on your foes
– Beautifully crafted fantasy story line will grab you from the start
– Endless strategy with the Elemental Affinity and Hero Karma system
– It's dangerous to go alone! Play online with friends in numerous multiplayer modes
– Assert your dominance in local and epic cross-server PvP Arena wars
– With daily events and constant content updates, you'll never run out of things to do
Note: This game requires a data connection to play.
What's New
The solved bugs:
1. The bug in Endless dream or Tower of Babel
2. History server issue
3. The tanslation issue of the Packs in Time-limited Store
4. The effect issue
Mod info:
1. 100% Winning locations
2. 100% Win Arena
3. 100% Win Guild Dungeon
4. 100% Win Sky Arena
5. All Open
6. Nope limit level in locations
7. Resource Run time limit = 5 min
8. One Mob kill = Win
Preview:
1) Log in only with GTArcade
2) Delete orig apk
3) Install MoD
NOTES:
Make sure you can play official version before use this mod.
v2.3.6 mod info:
1. Debug menu enabled
a) Press "Kill all!" in battle – Fast win
Preview:
Use a hack with the mind! You may be banned
1) Install mod
2) Launch "SG Lafko MoD"
3) Log in with FB or GTarcade
INSTALLATION:
1. Go to phone settings -> security -> enable check for Unknown sources
2. Download mod apk file below
3. Use your favourite file manager to install the APK
Downloads [Google play]
Spirit Guardian v2.3.6 Mod APK | Mirror 1 | Mirror 2 | Mirror 3

Spirit Guardian v2.3.3 Mod APK | Mirror 1 | Mirror 2 | Mirror 3

Spirit Guardian v2.3.2 Mod APK | Mirror 1 | Mirror 2 | Mirror 3