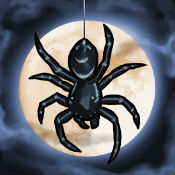 Spider: Rite of the Shrouded Moon
From the creators of the GAME OF THE YEAR award-winners, Spider: The Secret of Bryce Manor and Waking Mars.
YOU ARE A SPIDER
Spin webs of your own design to trap insects as you explore a mysterious abandoned mansion. Learn the truth about what happened there and leave the place covered in cobwebs.
REAL TIME, REAL WEATHER
Once the sun sets outside your window, it becomes night in the game. When it rains in real life, the rain also falls on Blackbird Estate. Solve cryptic puzzles using the weather and the moon, and encounter rare and beautiful insects that only come out at night. Prepare to be immersed as never before by this unique connection between game and real world.
A STORY OF SPIDER PROPORTIONS
An estate built by a secret society for a mysterious purpose. A mad inventor, a brave child, and an adventurer of the high seas. Discover hidden passages and decode secret messages. Slip under floorboards, through keyholes, and up to the rooftops for a spider's perspective on this dramatic tale told without words.
How to Install?
Download all file and extract it
Copy Data to Scdcard0/Android/obb
Install apk file as usual
Done and Enjoy!
Spider: Rite of the Shrouded Moon v1.0.5  | Mirrors (21 MB)
Spider: Rite of the Shrouded Moon v1.0.5 Data | Mirrors (533 MB)