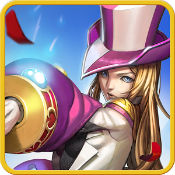 Soul of Legends v1.35 Mod APK for Android.
A Legend is born in your hands!
LOL optimized for mobile phones!!
The best MOBA(AOS) game yet!
Grow Heroes, destroy enemy base, and enjoy dynamic battles!
MOBA game is now playable in mobiles!
*************************************************
★★★ Introduction ★★★
Playing alone is boring!
Enjoy live mobile battle with your friends!
Fight with your friends or try random matching!
★★★ Features ★★★
☆ Live Network Play
Along with the basic single play against AI,
you can battle live by inviting your friends or by random matching!
Feel the thrill of 1vs1 or 2vs2 battle by strategizing with your team and fighing against the enemy.
Become a legend!
☆ Various Game Systems
Chose your own item tree and gems! Use strategy!!
Gem crafting system with 100% success rate!
Bring victory by obtaining the Master Soul
What's New
[2014.11.27]
– Updated 'Add Friends' function
[2014.11.01]
– First service open
– Playable on Tablet PC
Mod info:
1. Infinite Mana.
2. No Skill Cooldown.
3. Enemy Champions don't use skills.
 NOTE : Game is unstable the first 5-6 times you open / log in. After that works perfectly fine.
Download [Google Play]
Soul of Legends v1.35 Mod APK | Mirror 1 | Mirror 2