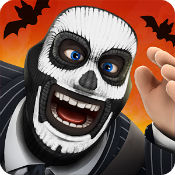 Snipers vs Thieves v1.4.13701 Mod APK + DATA for Android.
Snipers vs Thieves is a REAL-TIME multiplayer heist game! PROTECT your stash as a deadly Sniper or LOOT your rivals as a gang of filthy Thieves!
Create and upgrade a deck of EPIC GADGETS ranging from big-head ammo, freeze bullets to the ever-reliable invisibility cloak.
Play in SEASONS to earn stars and REWARDS as you work your way up the ranks. Earn game changing MASKS such as the Gorilla King, Frankenstein and even U.S. Presidents past and present!
*************
FEATURES:
PLAY AS A SNIPER!
• Protect your vault in real-time from rival bankers! Take them out before they get to the getaway van!
LOOT AS A GANG OF THIEVES!
• Team up with Thieves across the world or buddy up with your friends and take on rival gangs!
UPGRADE OVER 50 DIFFERENT WEAPONS AND GADGETS!
• Blow your rivals away with explosive ammo or ice the competition with freeze bullets!
• Disguise yourself as a car or perhaps even a tree to slip away with all the loot!
GET RICH IN STYLE!
• Collect over 100 different masks! Highlights include Samurai, Pumpkin head and Disco Ball guy.
JOIN A CLAN WITH FRIENDS!
• How much loot can you take in a weekend? Co-ordinate your clan to maximise your returns!
SEASONS AND COMMUNITY!
• Seasons and events filled with new content and surprises!
• Climb your way to the elite leaderboards and prove your worth against the best in the business.
DELVE INTO THE BLACK MARKET!
• Hundreds of weapons and gadgets flow through the black market every day – keep an eye out for rare items!
What's new
Welcome to Snipers vs Thieves: Trick or Treat Edition!
A "SCARILY" big update:
** NEW Pumpkin masks! Check them out in the mask collection screen! **
** NEW Clan features: customisable clan badges, private clans and clan locations! **
** ALL maps have been transformed into UNDEAD playgrounds complete with SPOOKY lighting and GHOULISH creatures!**
** NIGHTMARISH Halloween menu screens! **
** Mask re-balance. **
Mod info:
1- High Accuracy
2- No Reload
3- No Recoil
4- Auto Fire
5- Laser Unlocked
How to install?
Download and install Patched/Mod APK from below, don't run the game yet.
Download OBB file and extract the folder "se.foglo.svt" to Android/OBB
Done!
[ads1]
Download [Google Play]
Snipers vs Thieves v1.4.13701 Mod APK