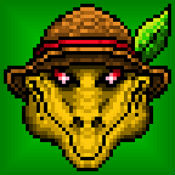 Siralim 2 v1.0.15 Cracked APK + DATA for Android.
Siralim 2 is an old-school monster catching RPG. Summon and customize hundreds of creatures to fight for you as you battle your way through endless dungeons. Find rare treasure and use it to upgrade your castle, empower your creatures, craft powerful artifacts, learn new spells, and much more.
Siralim 2 never ends. There's an infinite amount of content, and absolutely no limits or level caps of any kind. A list of the game's main features can be found below:
– Summon over 500 unique creatures to fight for you. Each creature has its own unique abilities.
– Breed your creatures to make them lay eggs. The offspring inherits attributes from its parents!
– Use your creatures to fight your way through randomly generated dungeons and complete randomized quests.
– Equip your creatures with spells. Spells can be found with randomly generated properties that change the way they behave in battle.
– Craft and customize equipment for your creatures with the help of over 600 different crafting materials.
– Upgrade your castle to unlock new rooms, NPCs, quests, and more!
– Tons of side content – gamble with the dwarves, fight in the battle arena, study in the library, cook a meal, entertain the riddle dwarves, and much more.
– An endless adventure – there are no level caps, no inventory space limits, and no true end to the game. Difficulty scales as high as you want.
– Cross-platform cloud saving allows you to play the same save file on multiple different devices, including Windows, Mac, Linux, Android, and iOS!
Note: you do not need to play the first Siralim game in order to enjoy Siralim 2. They are two very different games!
Download [Google Play]
Siralim 2 v1.0.15 Cracked APK | Mirror 1 | Mirror 2 | Mirror 3