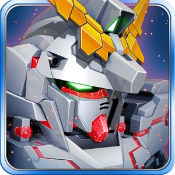 SD GUNDAM STRIKERS v1.5.1 Mod APK for Android.
[Features]
• Easily controlled with just one fingertip.
Move, change units, perform special attacks and more with just one finger!
This setup can be enjoyed even by casual action game players.
• You can even enjoy the game just by watching! [Semi-Auto Mode]
The basics of battle are semi-automatic. This takes the stress out of repetitive tasks like collecting materials.
Also, players can step in and take over without switching game modes, so manual control can be used when in a pinch.
• Create your own squad
A squad is made up of 3 units. These units can be freely switched during battle.
Units are split into three types: short, middle and long range. Use them tactically in battle.
Pilots can further enhance units!
Certain combinations of pilots and units activate special skills.
Create your own great set-up!
※Note that in-game text is Japanese only.
[Recommended OS version]
Android4.1 or later
[Disclaimer]
(1) Operation is not supported for the models and OS versions other than those recommended.
(2) Depending on your usage, there may be cases where operation is unstable even with the recommended models.
(3) Regarding recommended OS versions, although it says [AndroidXXX or later] this does not guarantee that it will support the latest version.
Mod info:
– Enemy Doesn't Attack
– Enemy Doesn't Move
– Massive Damage
Download [Google Play]
SD GUNDAM STRIKERS v1.5.1 Mod APK | Mirror 1 | Mirror 2