Description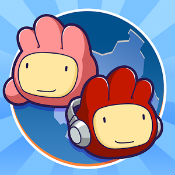 Scribblenauts Unlimited v1.04 Mod APK+DATA for Android.
The award-winning, best-selling puzzle game franchise Scribblenauts is back!  Imagine Anything.  Explore Everything.
Welcome to an adventure into a wide-open world, where the most powerful tool is still your imagination. Help Maxwell solve robust puzzles across dozens of seamless, free-roaming levels by summoning any object you can think of. Or you can apply adjectives to existing objects and magically transform their properties! Then learn the back-story about Maxwell's parents, 41 siblings (including his twin sister Lily), and how he got his magical notepad.
Features
• All-New Unbound World: Explore an open universe with unlimited hours of fun using every level as your playground.
• Object Library: Store previously summoned objects and your own creations in Maxwell's Magic Backpack for easy access and future use.
• Mobile optimized controls: Pinch-to-zoom and two-finger pan around enormous playgrounds.  Interact and modify any object on screen.
• Exclusive, new characters: Enjoy a time mashup with Hipster Lincoln or Robo-Einstein, become a Corporate Werewolf, or rule from above as Queen of the Skies!
What's New
Maxwell pushed the wrong button! So he created a new one, pushed THAT button, and now everything is working again. Thank you for your patience, and for playing Scribblenauts. The non-loading issue has been resolved, but if you see anything else you want us to know please tell us at support.wbgames.com.
Downloads [Google Play]
[tabs type="horizontal"]
[tabs_head]
[tab_title] Version 1.04 [/tab_title]
[tab_title] Old Versions [/tab_title]
[/tabs_head]
[tab] Scribblenauts Unlimited v1.04 Mod APK | Mirror 1 | Mirror 2 | Mirror 3
Scribblenauts Unlimited v1.04 Mod DATA | Mirror 1 | Mirror 2 | Mirror 3
[/tab]
[tab] Scribblenauts Unlimited v1.00 Cracked APK+DATA | Mirror 1 | Mirror 2 | Mirror 3 | Mirror 4[/tab]
[/tabs]