Description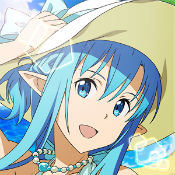 Sword Art Online: Code Register v3.7.0 Mod APK [JP] for Android.
JP name: ソードアート・オンライン コード・レジスタ
◆ ◇ Thanks for total accumulation exceeded 9 million DL! ◇ ◆
That "Sword Art Online" finally appears on Google Play!
Let's freely adventure the world of "VRMMO" with your hand!
Now, link start now!
The stage of adventure is the sword world 'Sword Art Online', the fairy and magical world 'Alvejam Online', and the gun world 'Gangale Online'.
Explore the three worlds and experience the original story that develops in each world!
The adventurous party members can freely organize the world characters of "SAO", "ALO", "GGO"!
Let's make the strongest party of your own dream!
Battle adopts "Duel Order System" which connects combo well in order of friend and enemy's action, but it becomes key. Calmly determine the situation of the battle, hit a powerful strike!
Also, let's use the special skill of the character called "Battle Ability" which has the effect such as "sword skill" which can give powerful damage, such as recovery and attack power up, and further strongly advance the battle.
MMORPG unique weapons and items generation elements are also enriched. Perform quests and collect materials to create powerful weapons and items!
Mod info:
v1:
Player Damage x5
Player Defense x10
v2:
Enemy Low ATTACK = 1
Enemy Low HP = 1
[ads1]
Download [Google Play] – This game is only in Japanese
SAO CR v3.7.0 Mod v1 | Mirror 1 | Mirror 2 | Mirror 3