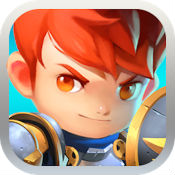 Rune Warriors: Age of Heroes v1.1.1.294 Mod APK for Android.
Rune Warriors is an action-adventure role-playing game set in a fantastic world of dragons, goblins, demons, and the undead. The game has something for everyone – PvP and PvAI combat; the challenge of deep and tactical battles balanced with fun mini games and short, action-packed skirmishes.
Mix and match various heroes to create a squad that can excel at close and ranged combat, at spells and melee, and against hordes of minions and epic boss battles. Whether you play for a few minutes or hours, you can discover over 30 unique heroes and earn loot, experience, and special items to upgrade them for an ever-growing roster of powerful warriors!
Features
✓ MMO-inspired Combat: You control multiple heroes in combat, each with unique skills. Switch up heroes in real-time to meet each challenge and use the right skills at the right time to defeat your enemies.
✓ Island Conquest PvP Map: Explore and conquer an ever-expanding archipelago, winning and losing islands in PvP matches, earning daily gold for every island you control.
✓ Player-versus-Player Matches: Take your upgraded heroes into 3-on-3, tag-team style matches against other players. Win once and earn items and currency. Win often and climb the ranks for even better rewards.
✓ Character Upgrading: Use runes to summon powerful heroes, then max out their power using their sigils, skills, rank, and gear.
✓ Player-versus-AI Battles: Quest through the solo maps and conquer side-scrolling missions where you take on various monsters and characters, earning experience and loot.
✓ Daily Events and Quests: Collect stamina, gold, and other rewards in daily quests and battles featuring rotating character buffs.
✓ Autoplay: For added convenience, set your heroes to autoplay and they will automatically fight your battles.
Please Note: Rune Warriors: Age of Heroes is free to download and play, however some game items can also be purchased for real money. If you do not want to use this feature, please set up password protection for purchases in the settings of your Google Play Store app.
A network connection, 1GB of RAM, and Android 4.4 or higher are also required to play Rune Warriors.
Mod info:
1. 1 Hit Kill. [ Equip a weapon ] [ Exception To Cheat : Tutorial ]
INSTALLATION INSTRUCTIONS
1. Install playstore version of game.
2. Use a file manager and go into sdcard/android/obb/[here] and find "com.fusion8.runewarriors" and rename it to "com.fusion8.runewarriorsXX"
3. Uninstall playstore version, OBB will stay because you renamed.
4. Download and Install my modded apk.
5. Enjoy
Download [Google Play]
Rune Warriors: Age of Heroes v1.1.1.294 Mod APK | Mirror 1 | Mirror 2 | Mirror 3