Description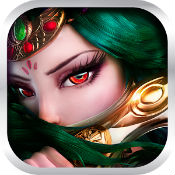 Romance of Heroes v5.3 Mod APK for Android.
★Classless System★
Forget about job class selection. In Romance of Heroes, you can use 1 character to play multiple weapons. Change to your favourite class in just 1 second. Melee? Range? No problem!
★Master Your Favourite Weapons★
Blade, Dual Blade, Fan, Bow, Gauntlet, Firelock… Master up to 6 types of weapons at the same time and switch them on the battlefield anytime you wish!
★Real Time Battle★
Superb 3D graphics and stunning skill effects. Experience the ultimate combat system: 1 VS 1 PK, 3 VS 3 Cross-Server PVP at all time.
★Breathtaking Graphics★
A truly breathtaking view of 3D scene and spectacular game architecture that will surely bring you to an awesome Three Kingdoms journey.
【Game Attractions】
★Numerous Goodies★
Countless goodies await! Massive diamonds produced from variety of gameplay. FREE General Zhao Yun to all newbies! You never have to fight alone.
★Ultra Cool★
Fancy Costumes, Gorgeous Battle Flag, and Stylish Equipment make you feels like a superstar!
★Guaranteed Fun★
Beauty Rescue, Last Man Standing, Casual Fishing… So much features, so much fun!
What's New
– Added 【Real-time 3V3 Cross Server PVP】, Be the King of Game!
– Added 【Honor Shop】, Earn your Honor from 3V3!
– Added New Pet【Cupid】, Cute and lovely!
– Added 【Encouragement Quick Leveling System】, Leveling Time!
– Fixed Bug
Mod info:
1. Damage Multiplier
2. Enemy damage reduced
* high damage only for monster,the actual damage is multiplied by X
Download [Google Play]
Romance of Heroes v5.4 Mod APK | Mirror 1 | Mirror 2 | Mirror 3

Romance of Heroes v5.3 Mod APK | Mirror 1 | Mirror 2 | Mirror 3