Description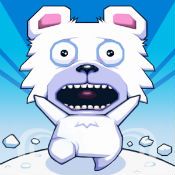 Roller Polar v2.0.2 Mod APK for Android.
Take control of your Polar Bear and ride the snowball down the mountain. Watch out for the boulders, trees and wildlife!
Day and night the ball keeps rolling, faster and faster it goes, what's the highest score? Nobody knows!
Features:
• Addictive one touch game play that is easy to pick up but difficult to master!
• Awesome pixel art from the award winning studio Nitrome.
• Real-time dynamic day and night game play. So if it's day outside, it's day in the game! If it's night… oh you get the idea!
• Music by Dave Cowen (Creator of Ice Breaker – A Viking Voyage)
• Unlockable Achievements
• It's a Polar Bear running on a giant snowball down a mountain! What more do you want!
Important Message for Parents
This game may include:
– Direct links to social networking websites that are intended for an audience over the age of 13.
– Direct links to the internet that can take players away from the game with the potential to browse any web page.
– Advertising of Nitrome products.
What's New
Roller Polar is back with 6 unlock-able bears to play with!
Collect the coins whilst hurtling down the mountain on your big snowball, then pop into the shop to purchase your new bear suits! We've added some UI improvements.
We've also tweaked the gameplay a little too… just to spice things up a little!
Thank you for all your positive reviews and feedback it really does make a huge difference to us!
Cheers!
The Nitrome Team
Download [Google Play]