Description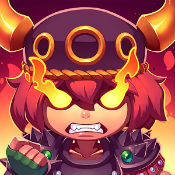 Rogue Life v1.8.0 Mod APK for Android.
Rogue Life (Free to Play!)
The ultimate crossover game is finally here!
Embark on a unique and exciting adventure where you shoot monsters while you evade a barrage of bullets, projectiles and missiles. Can you survive until the end?
Put your dodging skills to the test in this never-before-seen shooter x RPG crossover!
Mix and match costumes to style your characters! Like 'em cute? Like 'em heroic? Like 'em tough? It's all up to you!
Live the Rogue Life by chopping wood, mining, studying, planting, baking and more! Work your characters hard, till they drop!
Features:
▶Easy to play and action-packed!
▶Defeat monsters and bosses in various single player modes
▶Real life simulation in your squad home – collect upgrade materials by working your squad members to the bone!
▶Recruit different characters
▶Over 300 costumes – customize characters to suit your style
▶Exciting PvP battles – 3 vs 3 on the battlefield, max 12 members per team
▶Tons of stages, quests and modes – there's so much content to enjoy!
▶Level up your characters from wanderers to elite rogues!
Story:
Once upon a time, brave warriors fought and defeated the Demon King. The world finally embraced an era of peace.
The age of tranquility continued for a long time that people have forgotten what it's like to be in danger.
One day, monsters suddenly wreak havoc and the world is once again thrown into chaos. So the brave warriors have gathered to begin their adventure in bringing back the peace that was lost.

What's New
– Update Clan Raid
– Update Weapon ascend
– Update auto mode in Fortress of Deceased
Mod info:
v1:
1. Damage x10
2. Defense x10
v2:
1. Damage x100
2. Defense x100
Root required? No, works on both rooted and unroot Android 4.1 and up.
How to use?
Download and install original APK from below to bypass tutorial first then install mod apk.
[ads1]
Download [Google Play]
Cheat detected, unplayable,hence links deleted.
Rogue Life v1.8.0 Original APK | Mirror 1 | Mirror 2 | Mirror 3

Rogue Life v1.8.0 Mod APK v1 | Mirror 1 | Mirror 2 | Mirror 3

Rogue Life v1.8.0 Mod APK v2 | Mirror 1 | Mirror 2 | Mirror 3