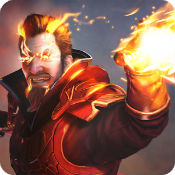 Rival Kingdoms v1.65.0.289 Mod APK for Android.
Build the ULTIMATE base, forge a MIGHTY Kingdom and CRUSH your enemies in "Rival Kingdoms: Eye of Destruction". A game of EPIC strategy warfare where only the strongest will claim VICTORY!
Join forces with the "Ancients"; Legendary WARRIORS, GODS and MONSTERS able to harness the forces of nature. Use their DEVASTATING POWERS to turn the tide of battle to your advantage!
Lay waste to the evil forces of "Ruin" in the single player campaign or join a true MMO-EXPERIENCE with players from around the world in the ADDICTIVE "Kingdom Raid" mode.
Game Features:
* Outstanding NEXT-GENERATION graphics.
* MMO gameplay; GLOBAL CHAT and ALLIANCES.
* Revolutionary 300-player RAIDS!
* IMMERSIVE campaign and EPIC story.
* Best in class PVP experience.
* Control all the action in REAL-TIME!
* NO TROOP TRAINING – get straight into the fight!
* FREE Download.
What's New
Rival Kingdoms' biggest update ever has arrived! An ancient desert land corrupted by Ruin influence has unveiled itself. Are you brave enough to breach the gates and venture into the lost city of Arcadia?
Take on 10 challenging new campaign battles. Unlock your Stronghold level 18 upgrade with a lush oasis theme. Construct the Poison Fountain defense to deal massive damage to attackers. Recruit Assassin troops to slay your Rivals. Unlock Bask and Aku, the powerful Sun and Moon God Ancients!
Mod info:
1. Infinite Summoning Skill (500 Mana)
2. Change Name (Infinite)
[ads1]
Download [Google Play]
Press back on your device while the game trying to login with Google account.
Don't abuse the skills,otherwise the game will be crashed.

Rival Kingdoms v1.65.0.289 Mod APK | Mirror 1 | Mirror 2 | Mirror 3
[toggle title="Old Versions" state="close"]
Rival Kingdoms v1.62.0.94 Mod APK | Mirror 1 | Mirror 2 | Mirror 3
Rival Kingdoms v1.54.0.4089 Mod APK | Mirror 1 | Mirror 2 | Mirror 3

Rival Kingdoms v1.40.0.3533 Mod APK | Mirror 1 | Mirror 2 | Mirror 3
[/toggle]