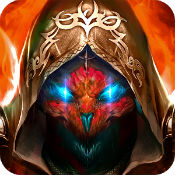 Rise of Darkness v1.2.102872 Mod APK for Android.
Rise of Darkness is the newest action MMORPG powered by Unity 3D engine.Players can transform into 5 different Fiends, battle bosses and minions in Story Mode, occupy stages for desirable loots in Inferno Mode, fight against players from around the world in Arena and Soul Reap, or team up with partners in Multiplayer instances.
The world is in chaos since the invasion of Underworld Demons. And the only hope to restore peace and order lies in a blood crystal that seals ancient Fiends' power. Take over the blood crystal, unseal the power within, and dominate demons, for justice or for evil.Warriors, gear up and go feed your darkness side!
Features:
●Fiend transformation
Transform into Fiends, deal massive damages and save your life
●Demon Wing
Upgrade your Wings for a dazzling appearance and strengthened power
●Skills and Runes
Enhance your skills with Runes to unleash powerful skill combos
●Trial Mode
Challenge yourself and collect mountains of loot
●Inferno Mode
Battle both players and monsters, capture dungeons and get rewards for your dominance
●Demonic Tower
Defeat bosses and minions, obtain rare items, and beat your friends to the highest level
●Arena
Fight 1on1, climb up the leaderboard and receive top rewards
●Multiplayer Dungeons
Team up with your friends and share the luxurious rewards
●Guild System
Join in a guild for dungeon crawl and boss fights. Eliminate enemies in guild wars with those who share your love and hate
●Title System
Unlock achievements and earn glory titles
What's New
1. Guild 10-Hell Challenge: New bosses, Difficulty increased by more than 1.5 times, rewards increased.
2. New Guild Raid
3. Two new hell boss: Dragon and Goddess
4. Pet experience system adjustments
5. New Ghost offering levels
6. New Ghost offering fashion: Ghost Fire Head、Magic Eye
7. New fashions: Black Demon Agent、Whit Demon Agent、Ghost Cry、DemonSummon
8. New pets: Mechanical BUll【battle】、Mechanical BUll【possession】
9. New wing class
Rise of Darkness v1.2.102872 Mod info:
v1:
God Mode
1 Hit Kill (Massive damage)
Dumb Enemies (They won't attack you)
v2:
God Mode
Damage x25
Dumb Enemies (They won't attack you)
Got White Screen? Here's how to fix:
1, Download and install the Game from the PlayStore.
2, Run the game for the first time, then quit it, then go to "sdcard/Android/obb".
3, Rename the folder "com.cmge.gplay.rod" to "x-com.cmge.gplay.rod".
4, Uninstall the PlayStore/Original Game.
5, Install the Modded Game.
6, Rename the folder back to it's original name (com.cmge.gplay.rod)
7, Open the game and it should run without any problem.
8, Enjoy!
Download [Google Play]
Hit Okay if the game asks for reconnect.
Rise of Darkness v1.2.102872 Mod APK v1 | Mirror 1 | Mirror 2 | Mirror 3

Rise of Darkness v1.2.102872 OBB | Mirror 1 | Mirror 2 | Mirror 3
[toggle title="Old Versions" state="close"]
Rise of Darkness v1.2.98624 Mod APK v1 | Mirror 1 | Mirror 2 | Mirror 3

Rise of Darkness v1.2.98624 Mod APK v2 | Mirror 1 | Mirror 2 | Mirror 3

Rise of Darkness v1.2.98624 OBB | Mirror 1 | Mirror 2 | Mirror 3
Rise of Darkness v1.2.85282 Mod APK v1 | Mirror 1 | Mirror 2
Rise of Darkness v1.2.81004 Mod APK v1 | Mirror 1 | Mirror 2 | Mirror 3

Rise of Darkness v1.2.81004 Mod APK v2 | Mirror 1 | Mirror 2 | Mirror 3
[/toggle]