Description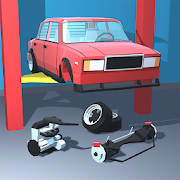 Retro Garage Mod APK download for free for Android.
🚗 Become a car mechanic and repair retro cars of the USSR! Look for damaged parts, order new ones, or try to fix it yourself.
🛠 Each car consists of more than 50 parts in 3 categories: body, chassis and engine. If you wish, you can make tuning and replace part of the body and suspension parts with sports, racing and other modifications!
💵 After repair, you can test your car on the race track, sell it, or add it to your garage.
The most popular serial cars of the USSR of the period of the 50s – 90s of the last century are presented, coming off the conveyors of GAZ, UAZ, VAZ, ZAZ, AZLK and other Soviet car factories.
Mod info:
*Increase when spent
Download [Google Play]