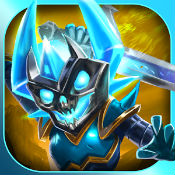 Raid Brigade v0.32.0 Mod APK for Android.
Your father's kingdom has been destroyed, do you have what it takes to rebuild and reclaim your former glory?
Control your party of legendary fighters. Conquer enemies, earn treasure, and build your kingdom to rise to the top of the leaderboards.
On your adventure, unlock archers, melee fighters, and casters to make your heroes unstoppable in battle. Strategically build a team of four heroes to defend your kingdom and conquer enemy cities.
n The action is waiting! JOIN THE FRAY TODAY
===FEATURES===
**Elegant and simple one-touch controls.
**50+ unique heroes from 3 different classes: melee, archers, and casters.
**Customize your heroes with over 200+ weapons, amulets, and rings.
**Level up your heroes' skills and items to dominate your opponents.
**Build a party of 4 heroes to have the best strategy in varied multiplayer battle.
**Climb the leaderboards to collect epic treasure and claim glory.
**Over 100+ levels of single player story.
**Strategically build your city with barricades, roads, and fences.
Raid Brigade is optimized for phones and tablets.
A network connection is required.
What's New
A huge update for all Raiders!
*Guild Bosses – Team up with your Guild to take down powerful bosses with great rewards.
*Legendary PvP Tiers – 25 new Tiers have been added to PvP, with bigger rewards and the best shot at earning legendary loot!
*Multiplayer Arena – The popular Arena event now has a PvP element, where you pit your best waves against real opponents!
*Crafting – You can now convert your resources into the resources you really need with the all-new crafting feature.
Mod info:
1. Massive Critical Damage.
2. Drop chance for critical potions is 100%.
3. Drop chance for health potions is 100%.
4. Infinite Mana/SP.
5. No Skill Cooldown.
6. Increased Movement Speed.
Download [Google Play]
Raid Brigade v0.32.0 Mod APK | Mirror 1 | Mirror 2

Raid Brigade v0.31.0 Mod APK | Mirror 1 | Mirror 2