Home /
Mods /
Racer UNDERGROUND v1.30 Mod APK
Description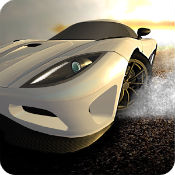 Racer UNDERGROUND v1.30 Mod APK for Android.
Racer UNDERGROUND offers an experience of high adrenaline, exciting and entertaining racing game to you.
Nothing is missing in this game; chasing criminals, escaping from police and reaching the target, racing to finish ahead of competitors, achieving the best time and much more..
Racing and getting scores unlocks super sport cars. You can buy and modify new cars with credits you get.
Modifications:
-Engine
-Nitro
-Turbo
-Brake discs
-Tires
-Suspension
-Vehicle weight and armor
Other features other racing games do not have:
-Roaming freely in a single map with OpenWorld design
-Real engine sounds
-Jumping over truck ramps
-Escaping from traps dropped by police helicopters
Tips:
-To proceed to next level you must complete the tasks given
-Ease off the gas pedal while entering the bend turns
-You can use handbrake during bend turns for drifting
What's new
You can test all cars with "Test Drive" option with this update.
Mod info:
A lot of Money
Download
Racer UNDERGROUND v1.30 Mod APK | Mirror 1 | Mirror 2 | Mirror 3