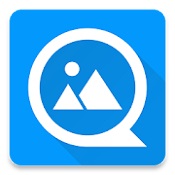 Fast, light and modern! Loved by over 10 million users, with an overall rating of 4.6, QuickPic is ideally the best alternative gallery App designed for managing your beloved photos. It's significantly smaller than other gallery apps, but packs more power than any of them.
◆ Reviews
ANDROIDPIT: One of the best free Android apps of 2015
UltraLinx: Arguably the best gallery app for Android
Life Hacker: QuickPic is our favorite gallery replacement
◆ Features
Material Design: Colorful themes and modern design, transparent layered and immersive user interface.
Fast: Quick app launching, view thousands of your photos instantly. QuickPic's smooth user experience is optimized for large screens and multiple finger gestures, and contains no ads or extra permissions.
Privacy: Easily hide or exclude your private photos and videos from all gallery apps and protect them with a password.
Management: Powerful file management features, including sort, rename, create new folders, moving/copying Data and more.
CM Cloud: Offering speedy back up and restoration, as well as password protection. Your photos will be stored on industry leading Amazon S3 servers to help you preserve all your precious memories securely.
◆ Other Functions
> HD Quality: View thousands of your photos instantly in a high quality slideshow
> Customize Photos: Internal picture editor which allows you to rotate, shrink, crop, and set as your wallpaper with the best quality.
> Storage Support: Supports multiple online album services, including Picasa, Google Drive, Dropbox, Flickr, OneDrive, Box, Amazon, Yandex, 500px, OwnCloud, Samba and more. You can even auto back up your photos to your specified cloud or computer.
> Multiple Media Support: QuickPic's supported image and video formats are jpg, jpeg, jps, png, gif, bmp, wbmp, mpo, webp, 3gp, 3gpp, 3g2, avi, mp4, mkv, mov, m4v, mpeg, asf, divx, flv, k3g, mpg, m2ts, mts, rm, rmvb, skm, ts, wmv, webm. (Note: Some file types might not be supported on certain devices)
◆ Tips
1) Due to the restrictions of Android 4.4, non-stock apps are unable to modify files within an external SD Card. Unfortunately we cannot bypass this restriction.
2) Clean your app data or re-install QuickPic to clear your password.
Mod info:
1.Remove services&providers:
CrashReportService
cloud.service.CloudCoreService
cloud.service.QuickPicService
cmcm.cloud.engine.db.sdk2
cmcm.cloud.engine.config.sdk2
com.cleanmaster.privacypicture.core.PPGuardSchedul er
2.Remove <CM cloud> <Phonetheme>item from slide menu and CM clould setting entry.
3.Remove <backup> menu
4.Mod URL umeng.com to umeng.con
5.Remove cleanmaster related activity & com.cmcm.gdpr.WebViewActivity
Credits: hk3f
Download [Google Play]
Old Versions
Old Versions
 WSTxda version FEATURES:
-Changing the name "QuickPic" to "Gallery"
-Fix pink text
-500px Now it's called Wallpapers
-Removed processes in the background
-Removed CM Cloud and any other related things
-Removed and blocked some strange permissions
-Removed feedback, CM Backup, Wifi Transfer, from the side menu (And more other little things)
-New icon
-New icons in the slider menu and recent
-New Blue Pixel Theme
-Improved color values
-Improvement in translations
-Improved dimension values ??(for small screens)
-Fix transparency in the dark theme and folder title
-Fix other problems reported
 WSTxda version CHANGELOG:
– Fix storage access (use old method)
– Fix wallpaper trim in MIUI
– Fix video seekbar error in large videos
– Fix clear cache on exit in Android 10
– Update translations.