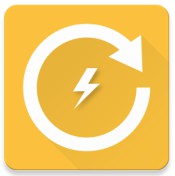 Quick Reboot Pro v1.1.2 Cracked APK for Android.
Pro version
– No ADs
– Light or dark app and widget theme
– Show and hide cards individually
Advanced reboot options are not available in your ROM?
Bored from being forced to use ADB or terminal to enter advanced modes?
Forget everything! This application gives you access to all the advanced reboot options in one single place, you don't need to type commands in terminal or do anything else, all it requires is root. Do you have it? Great, a single tap is the way!
Also provides a widget for your home screen, reboot has never been faster.
Available options:
– Normal reboot
– Enter safe mode
What's New
** Version 1.1.2 **
– Legacy reboot mode [only for Android < 5.0]: enable it in settings if on your device reboot options, excluding PowerManager ones, don't work.
Previous version:
– Implemented libsuperuser for maximum compatibility
– Improved app speed
– Improved homescreen widget
– Minor text updates
– New Ripple effect when cards are pressed
– Optimized reboot process
– Updated themes, better Android 5.0+ integration
Download [Google Play]