Description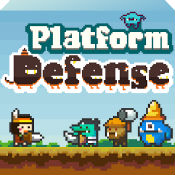 Platform Defense v1.26 Mod APK for Android.
★★ No.1 Strategy game in Korea, Spain! ★★
★★ Super Awesome game! ★★
★★ Brand new type of game play! ★★
★ You should really try this kind of game 😀 ★
Can you be the hero? Monsters are kidnapping people! You are the only one left.
Defend yourself against monsters. And survive through 100 waves!
– Special heros to unlock
– Source pans to shoot
– Unique traps to place
– All different elemental monsters to DEFEAT!
Trap Description
– Spike: Gives damage to enemies that step on.
– Freezer: Freezes enemies that are in front of it when it opens .(Ice element)
– Wall: Stops enemies for a while.
– Wall Spike: Attacks slowly but gives heavy damage.
– Flask: 1 time use bomb.
– Gas Burner: Fire damage to enemies that step on.(Fire element)
– Spike Drop: Spike drops are falling on enemies' head.
– Bomb: Blows after a second when a enemy touches it.
– Ice ball: Fires an ice ball. (Ice element)
– Boulder: Press enemies so that they can move for a while.
– Fire: Upgrade version of Gas Burner(Fire elemenet)
– Big Hand: Push enemies to a lower level.
– Cactus: Anti-aircraft gun. It only attacks flying units.
Element description
– Fire: Gives 2x damages when enemies start to burn. Gives damages gradually until the fire is extinguished.
– Ice: Freezes enemies and extinguishes fire.
Download [Google Play]