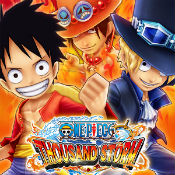 ONE PIECE THOUSAND STORM v10.4.5 Mod apk + Data for Android.
【The Latest One Piece App in Your Hands】
Characters from "2 Years Ago" to "New World",
One Piece characters will now move in 3D!
Enjoy the Multi-Player battle with up to 3 Players!
——————————–
■About the Game
——————————–
Gather your friends!
With up to 3 Players in
"ONE PIECE Thousand Storm",
enjoy the Multi-player pirate RPG!
With easy controls, blast your skills
and defeat your opponents!
Luffy, Zoro, Nami, Usopp…
Starting with characters of the Straw Hat Pirates,
Trafalgar Law, Doflamingo and many other
characters from the anime will be in Action!
——————————–
■Exhilarating Battles with Easy Controls
——————————–
Characters will attack the targeted opponent!
Touch the opponent to change target,
or touch the ground to freely move around the field!
Take your opponents back, or rush to your friends for support!
Unleash the power with Special Skills!
With easy to learn battle system,
wipe out your enemies!
——————————–
■Blasting Skills
——————————–
Luffy's "Gear 2nd: Red Hawk"
Zoro's "Great Dragon Shock"
Sanji's "Diable Jambe"
Trafalgar Law's "Shambles" and more!
Many skills and abilities will be in action in 3D!
Skillfully select the abilities to use for the best timings.
——————————–
■Multi-player battle
——————————–
By completing the quests and events,
you can ally new characters!
Form your team with your favorite
characters and enjoy up to 3 player multi-player battle!
One player "Single Mode" is also available.
——————————–
■Character Development
——————————–
Various memorable scenes from the anime
are now available in Game as Scene Cards!
Equip scene cards to improve your character stats!
If the scene card is a skill-attached scene card,
Character will learn a new skill once equipped!
Collect the most memorable scenes and develop
your characters.
——————————–
■Communication
——————————–
Pre-battle planning and strategy guidance-
take part in communication in the Lobby!
Use "Sticker Chat" for instant
communication in battle!
The world of One Piece awaits you!
[Recommended OS Versions]
Android
4.2 or later
Mod info:
-Weaken Monster (1 HP/ATK)
Installation Instructions: (if you previously installed our old mods,no needed to uninstall, just download and install new mod apk and it will overwrite the old one.)
1)To install this game – Make sure any previous version of the game has be uninstalled beforehand. Next, download the .apk file of your choice below. If you're on pc, move it to your Android device, then tap on the .apk file to install it.
Root required? No,works on both rooted and unrooted Android 4.0.3 and up. Rooted devices need to apply Lucky Patcher, unrooted devices just install and play.
Download [Google Play]