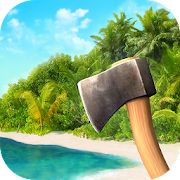 Ocean Is Home: Survival Island Mod APK for Android.
Try to live the life of a man who has got on a desert island …
————–
You have to look for food and water, to think about the roof over your head, crafting things necessary for life itself from what will make the surf on the beach.
————–
Warning: The game is in alpha testing.
Disable real-time shadows and reduce draw distance if you have low framerate.
————–
"Ocean Is Home" is:
– Survival Island
– Construction of house
– Craft items
– Hunting
————–
What's New
In this update, we have added several save game slots. We also added the ability to send your save to the cloud so as not to lose them. Known bugs have been fixed, and work has been done to optimize the performance of the game.
Mod info:
1. Infinite Coins
Download [Google Play]