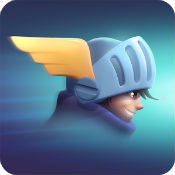 Nonstop Knight v1.6.3 Mod APK for Android.
"With Nonstop Knight's fantastic production values and focus on a streamlined action RPG experience, I'm super excited to check it out." – TouchArcade.com
Playable with one thumb and designed to instantly pick up and enjoy – the never-ending quest of Nonstop Knight awaits! Tackle the adventure at your own pace and earn rewards even while taking a break!
– Smash enemies, beat bosses, earn gold – it's that simple!
– Upgrade your knight and battle better
– Discover new abilities to unleash in battle
– Climb the dungeon leaderboards – rewards await!
– Stress-free gameplay – ideal for playing on the go
– No Internet connection required
PLEASE NOTE: Nonstop Knight is completely free to download and play but some game items may be purchased for real money. To disable this, turn off the in-app purchases in your device's settings.
What's New
NEW! In this Nonstop Knight update:
– Introducing Elite Bosses!
– Travel to our tropical ruin area and battle new enemies
– Additions to the Knight Stats screen
– Bugs fixes, improved performance and optimized gameplay
Mod info:
1.Infinite Gold
2.Infinite Gems
3.Infinite Token
4.Exp Modifier
5.Damage Modifier
6.DHP Modifier
7.Shield Modifier
8.Life Mod
9.Skill Mod
10.Reward Mod
11.HDR Perfomance Mod
12.Security Signature Removed
13.Coins Mutlilpler
14.CharacterMultiplier
15.Cooldown Modifier
16.MonsterCanCrit / 0
17.DamagePct / 0
18.Monster attack Speed / 0,5
19.Dungeon Coins Modifier
20.Shield Modifier
21.Speed Modifier
22.Mutlilpler Damage / System
[ads1]
Download [Google Play]