Home /
Mods /
Naval Fury: Warship 3D v1.1 Mod APK
Description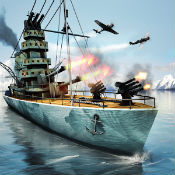 Naval Fury Warship 3D v1.1 Mod APK for Android.
The large armored battleships of the enemy are on the mission to maintain command on the Sea. They have invaded the sea and breached the Naval Defense lines. The Sea is full of heavy monstrous warships loaded with destructive weapons. The air strikes of the rival copters are distracting you from the destruction of the Military ships. The Enemy wants to achieve naval dominance in battle of the oceans.
Leave the harbor, navigate through the sea, Plan and direct course of your warship, follow the enormous Enemy Battleships using radar, target them using the best military strategy and open fire until the ships explode.
Protect your ship from the wrath, violence and counter strikes of the military copters and Battleships.
Establish your dominance in battleship Clashes. Destroy the hostile ships and defend your Naval Base!
Features:
Realistic Naval Fury Simulation!
Stunning 3D graphics and Sound Effects!
Air Strikes and Naval Bombardments!
Easy Ship Control System!
Naval Fury: Warship 3D v1.1 Mod Info:
Download [Google Play]
Naval Fury: Warship 3D v1.1 Mod APK | mirror 1 | mirror 2

Naval Fury: Warship 3D v1.0 Mod APK | mirror 1 | mirror 2 | mirror 3