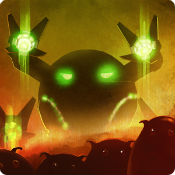 Nanomedix Evolution v2.1 Mod APK+DATA for Android.
Save the world from a ghastly epidemic! 24th century. People are facing the threat of global extinction threat. Viruses, germs and bacteria mutated, they are no longer affected by regular medicines. Since then humans are constantly struggling against them, for survival. Finally, in the course of this exhausting struggle for life, scientists discovered the way, they created nanorobots able to destroy deadly pathogenes inside internal organs tissue.
Nanomedix inc. is a game of tower defense genre that requires you to take precise firm actions and use well thought over strategies. Within mere seconds lethal viruses and diseases can affect all organs, one after another. There is not time to lose, immunity has dropped to almost zero. Manage your nanorobots wisely and put maximum effort!
The new era of combating diseases has commenced!
– 12 diverse levels shaped as 12 human organs;
– powerful nanorobots ready for total protection of human body'
– realistic graphical depictions of internal organs, one can even study anatomy with these;
– big variety of viruses, germs, bacteria, and cells – you will have quite a few opponents to fight;
– the possibility to share your achievements on social networks.
What's New
– Bug Fix
– System acceleration time
– Mobile energy generator
– Enjoyable game without F2P
[ads1]
Nanomedix Evolution v2.1 Mod Info:
Download [Google play]
Nanomedix Evolution v2.1 Mod APK | Mirror 1 | Mirror 2 | Mirror 3

Nanomedix Evolution v2.1 Mod DATA | Mirror 1 | Mirror 2 | Mirror 3