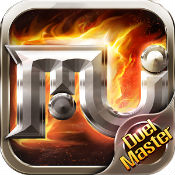 MU Origin-SEA v1.7.1 Mod APK for Android.
MU is back!
Officially authorized version by Korea Webzen. Unsurpassable legendary masterpiece!
"MU Origin-SEA" mobile version opens now. (For South East Asia)
== Game Introduction==
Still remember Vicious Series set? Can you recall the sound of gem dropping?
Ten years ago, MU rose as the first 3D fantasy MMORPG.
Today, "MU Origin-SEA" inherits the classic functions and thrilling joy to players!
Developed on Unity3D engine. Recreate the magnificent fantasy world.
Heroes never die, they just respawn. Regain your memory with the immortal MU.
== Game Features==
* Ten years legend is rising again
Three classes return, adventure to the classic dungeons!
Dominate the Warrior Land, climb to the top of the miracle world!
*Gergous special effect, readily experience
Realistic feel, game play is easy to pick up !
Jobs exclusive skill, special effect impact the vision of players!
*Million people fights in king hegemony
Same-server group fighting, fiery PK challenge!
Great map, free to explore, enjoy unlimited fun!
== Three Classes==
* Swordsman
Swordman shows off his skill and swordsmanship during battle. A character that filled with chivalry.
*Magician
Possesses mysterious power, with diverse magic that is undefeated. He always frighten away the enemy.
*Archer
A beautiful elf, equipped with fatal arrow, talented skill, and power of a priest.
What's new?
1. New System – Hallows. Collect four Holy Parts to Strengthen yourselves
2. New System – Flouresence Gem. Open the new age of element
3. New cross-server team dungeon – Doom Judgment
4. New cross-server team dungeon – Element Trials
5. New cross-server event – Warrior's Battlefield. Fighting with hundreds of players in one battlefield.
6. Bug fixing and system optimizing
v1.7.1 Mod info:
v1:
Max VIP Level – Lv. 12 (Remote warehouse, remote repair, remote potion shop, no wait time arena, instance teleport, 5% enhance)
v2:
3x speed
Max VIP Level – Lv. 12 (Remote warehouse, remote repair, remote potion shop, no wait time arena, instance teleport, 5% enhance)
Download [Google Play]
MU Origin-SEA v1.7.1 Mod APK v1 | Mirror 1 | Mirror 2 | Mirror 3

MU Origin-SEA v1.7.1 Mod APK v2 | Mirror 1 | Mirror 2 | Mirror 3
[toggle title="Old Versions" state="close"]
v1.6.0 Mod info:
Max VIP Level – Lv. 12
— Teleport Enabled
— BAG Remote Access
— PotionShop Remote Access
— Enchat Boost 5%
— No Arena Wait Time
MU Origin-SEA v1.6.0 Mod APK | Mirror 1 | Mirror 2 | Mirror 3
Mod info:
1. Speed hack x3.0
2. Monsters seem to slow down/ walk weird
3. Vip 10. Some of the VIP features (Remote warehouse, remote repair, remote potion shop, no wait time arena, 5% enchant boost, teleport in map)
Root & unroot device support.
Root device use all accounts (G+, Fb, Guest)
Unroot only Fb & Guest accounts.(no use G+ accounts, stuck login)
v1.4.0 mod info:
VIP 12 Partially Enabled
— Teleport Enabled
— BAG Remote Access
— PotionShop Remote Access
— Enchat Boost 5%
— No Arena Wait Time
v1.5.0 mod info:
1.Vip 10. Some of the VIP features (Remote repair, remote potion shop, no wait time arena, 5% enchant boost, teleport in map)
[/toggle]