Home /
Mods /
[Hack]MONZO All in one v0.4.0 Mod APK
Description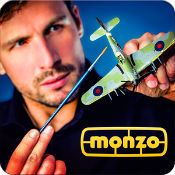 MONZO mod unlocked all models
Monzo brings you the best in models from Revell. With Monzo you can take your real-life Revell models to digital form, working them into design variations that reflect the power of your own creativity. Easy sharing of your models via social media gives you the opportunity to show off your Revell collection to all your friends.
MONZO is about discovery and adventure. It is more than model kit construction simulation. In MONZO you can build a model directly on your mobile device, providing the joy of model creation with an appeal that speaks to a broad audience of users, spanning from children to adults. With MONZO, everybody can easily build simple or complex models like cars, planes, machines, weapons, animals etc.
MONZO = over 30 available Models, plus wide palette of Paints and tons of cool Stickers!
Great Revell models like Messerschmitt Bf 109 G-6 StuG 40 Ausf.G PzKpfw Panther Ausf.G
Vehicles like Chopper Black Widow, Chopper Brimstone Beauty, Sports Car…
Weapons like Colt 1911, Smith & Wesson Model 53
Unbelievable collection of Dinosaurs
Leonardo DaVinci's inventions like Paddle Boat, Boring Machine, Alternate Rotation, Spring Catapult …
New models arriving weekly
30 color palettes
8 stickers and enhancements
6 backgrounds for photos
An unlimited amount of variations and … opportunities to show off your imagination
How to Install
Download the apk file from below.
Install the apk
Enjoy!
Downloads
MONZO All in one v0.4.0 Mod Apk (206 MB) | Mirror 1 | Mirror 2 | Mirror 3