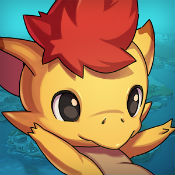 Monster Raid v1.0.5 Mod APK for Android.
A true monster collection game is here!
Try your luck at becoming the world's greatest monster hunter, together with cute and charming monsters!
◆ Game characteristics
Crisp and neat 2D graphics!
Charming, unique monsters!
A seamless storyline, organized into quests!
Over 350 types of monsters available throughout the game
A wealth of contents including event dungeons, raids, the Arena, and the Tower of Trials
1. Over 350 types of monsters
Over 350 types of monsters organized into 6 major tribes appear in the game! Try collecting all of the monsters!
Monsters will continue to be updated.
2. Over 200 quests, and a tantalizing storyline.
Don't know where to start or what to do? Over 200 quests will keep you engaged.
Do small favors for Doctor Vickers or Rita. They'll help you become the world's best Monster Hunter.
3. 7 islands, over 60 regions, and over 200 dungeons
Explore the 7 islands in Monster World, each with a unique environment. These include Jackal, the island of prairies, and Arnoah, island of jungles.
In the Giant Rift that occupies the eastern end of Monster World are unknown dungeons with various environments.
4. Arena system for multiplayer mode
You can battle with other players as well. Check out your opponent's team, and organize your team accordingly.
Compete with other players in the arena.
5. Hunt down giant monsters with your friends through the raid system!
Throughout Monster World, there are gigantic monsters that nobody can take on alone.
Join forces with your friends to bring down these giant bosses, and gain the change to win powerful monsters!
[For users using Android 6.0 or higher]
We need the permission to access files for loading the resources.
Mod info:
1. High Attack
2. Disable AI*
3. Skill
*Can't Use Auto Battle​
Download [Play Store:com.orca.monster.global]
Monster Raid v1.0.5 Mod APK | Mirror 1 | Mirror 2