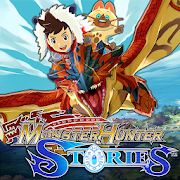 Monster Hunter Stories Mod APK + OBB download for Android.
Please read the section "Important Notes" before purchasing or using this app. Returns or credit cannot be granted after purchase.
This app has absolutely no in-app purchases!
• Game Features
– Recruit countless Monsties!
Monsties, and the bonds you form with them, are the backbone of your adventure. Explore vast environments and dungeons to find monster dens, and bring back the eggs you find to hatch new Monsties!
– New features for the smartphone version!
New improvements include beautiful high-resolution graphics, improved user interface, and a new auto-save feature!
• Story
The story begins in a forest near the village of Riders. Three young friends—the hero, Lilia, and Cheval—stumble upon a shining egg.
The trio perform a playful imitation of the Rite of Kinship, only to be shocked when it actually succeeds!
The egg hatches, revealing a baby Rathalos, a flying wyvern also known as "the King of the Skies." The trio affectionately name him "Ratha," and take him back to the village.
Days later, without warning, the village is beset upon by a monster infected by "the Black Blight." They manage to drive it away, but not before it devastates the town—and leaves indelible scars in the hearts of Cheval and Lilia.
A year passes…
The hero receives a Kinship Stone from the Village Chief and officially becomes a Rider. Cheval and Lilia both leave the village, each on their own path. The hero, though separated now from childhood friends, partners up with the cheerful Navirou, and embarks upon a new adventure into the world of hunters.
A story of friendship and triumph await you—ride on into the world of Monster Hunter Stories!
Mod info:
-License check is disabled;
-A completely offline game is available without the Internet;
-Immortality (control is available from the menu);
-Large damage (the amount of damage is generated virtually by the operating system as appropriate. Control is available from the menu);
-Free purchases in the store (control is available from the menu).
credits: komodias
How to install?
Download and install mod apk from the link given below. (after install, don't run the game yet)
Download all the obb file parts (4 of them), put them in the same path (Or you can download one big file from mirror 2,extract the file then skip to step 4)
Click on obb file part.1 to extract the file.
copy the obb folder "jp.co.capcom.mhsspen" to Android/obb/ Folder should be here
Done! Enjoy the mod! And you can turn mod features on/off on menu.
NOTE: if mod menu not showing up, you need to enable "display over other apps" permissions on your device's settings.
Note 2: The mod is working on Memu and NOX emulator and Android 5.0.1+
Download [Google Play]
Fixed-Monster Hunter Stories v1.0.3 Mod APK

Monster Hunter Stories v1.0.3 OBB Part.1 | Part.2 | Part.3 | Part.4