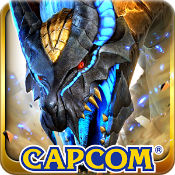 Monster Hunter Explore v05.05.02 mod apk for Android
This game is only released on Japan Google play store. Everything below is translated from Japanese to English used Google Translate.
【Operating environment】
Android4.2 later
RAM more than 2GB (IntelCPU not supported)
It may not work, even if it meets the conditions for some ※ models
[Game introduction]
Advances and Karitomo! !! To Midori-out islands to obtain the hidden treasure "Monster Hunter Ekusupuroa" is finally here! Islands made exploration and the unknown surrounding the discovery is listening, entirely new hunting life in an optimized simple action to kick off !! smartphone, to the world of hunting together Karitomo!
[Story]
– Topped impossible –
Shi touted so waters "裂界 range" of legend, 裂界 area the other side of that everyone was longing. The discovery of the sea route has fulfilled the longing that.
– World Shi becomes unknown is there –
Powerful monsters, legend of a number of new discoveries, and "treasure". Many of the explorers to obtain the honor has arrived …. I gather Shi Hunter, the entrance to the new world is here.
[Game system]
■ Up to four simultaneous cooperative play
Can also of course cooperative play in the smartphone! In hunters and up to four of friends and the whole country, and enjoy real-time co-op!
■ 12 weapons species
Familiar weapons also appeared in Ekusupuroa the Hunter! No what is lined with a single blow "large sword", splendid unmatched blow weapon "hammer", such as Juyari "Ganransu" gambling in moment of opportunity, in it to a new hunting weapon of choice!
[Ekusupuroa own element]
■ exploration
This time of Monster Hunter Treasure Hunt! ? And while hunting a powerful monster uncivilized islands "cross-sectional 裂群 island" exploration and piled many of the "new discovery", the mystery sleeping on the island Oki to retreive the "treasure"!
■ martial arts
And emits a "martial arts" various forces which are hidden in the weapon, and stand up to the monster! Attack power-ups and monster defense force down such as more than 100 kinds of allies! To the strongest hunter in a number of martial arts!
■ character
Quirky characters who meet at the expedition! Charming character voice by popularity actors!
Eliza (CV: Maaya Uchida)
Arugo (CV: Ikumi Nakagami)
Hawk Dr. (CV: Rikiya Koyama)
Sharon Dr. (CV: Yu Asakawa)
Andorra Dr. (CV: Kenichi Ogata)
Abigail (CV: Hitomi)
Bavu~eru (CV: Hiroki Yasumoto)
Debiru (CV: Yu Asakawa)
Mod info:
1. High Damage
2. Auto Battle 
3. Root-enabled devices
How to install? 
Download and Install APK From The Links Given Below
Done, Enjoy!
[ads1]
Downloads: [Google play]

[toggle title="Old Versions" state="close"]
Mod v1 (HD):
1. High Damage
2. Automatic Fighting (Auto Battle)
3. Enemy Attack 1
Mod v2 (Normal):
1. Increase Damage
2. Automatic Fighting (Auto Battle)
3. Enemy Attack 1
v05.02.00 mod info:
– High damage
– God mode
– Auto battle
[/toggle]