Description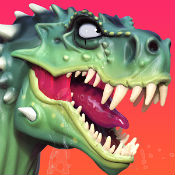 Monster & Commander v1.4.3 Mega Mod APK for Android.
Help King Bacon claim the castles conquered by the evil Necrommander – you are the last hope to restore prosperity and peace to the Kingdom. Ride your loyal monster into battle and wreak havoc on your opponents!
This is the strategy RPG you have been waiting for! Ferocious dragons, mighty heroes, dark castles, PVP battles & ranking, and a touch of nutty cuteness! In the wacky world of Monster & Commander you will find everything you know and love about RPGs.
STRATEGY RPG GAME
✔ Be strategic when picking your combat monsters and heroes in order to maximize their power and exploit the enemy's weakness.
✔ Make sure to use the right skill for the right situation.
✔ Craft armors to upgrade your units.
COLLECT EVERYTHING
✔ Collect more than 400 unique units, including dinosaurs, dragons, and other mythical beasts.
✔ Acquire units daily to strengthen your army.
✔ Evolve your monsters and heroes to unlock new magic skills.
✔ Sacrifice your weakest units to create ultra-powerful monsters and heroes.
BATTLE FRIENDS
✔ Clash with other players in the Arena, or compete in the ranked multiplayer events.
✔ Challenge and seek revenge against opponents.
✔ Chat and share stories of epic battles won.
EVOLVE THE CITY
✔ Build the city – collect materials and craft armors & potions.
✔ Upgrade the city buildings to boost income and watch the gold flow in.
INCREDIBLE GRAPHICS
✔ Enjoy state of the art 3D graphics and thrilling in-battle animations as huge monsters clash.
✔ Explore a vibrant RPG world full of incredible environments inhabited by distinct races.
Mod info:
Infinite Gold
Infinite Diamond
Infinite Energy
Infinite Energy PVP
MAX LVL
EARN LOOT XP
Download [Google Play]
Monster & Commander v1.4.3 Mega Mod APK | Mirror 1 | Mirror 2

Monster & Commander v1.4.2 Mega Mod APK | Mirror 1 | Mirror 2