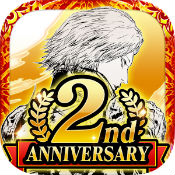 MOBIUS FINAL FANTASY v1.7.001 Mod APK for Android.
full HD game is finally to smart phone
Final Fantasy latest!
■ overwhelming graphics heavy story!
FFVII / FFX Kazushige Nojima had their new scenario.
In episode delivery and a variety of management events of each chapter
Infinitely play is the emergence of a new generation of full-scale RPG!
■ crisp evolved command battle!
New battle that specializes in one-handed operation of the smartphone.
Flashy effects and smooth motion
to create, and try to experience the surprise of crunchy Battle!
■ "job system" adoption of FF tradition!
Job system that produces a deep strategy.
The combination of job and ability to infinity.
Even where it will Hamaro to score a point over character makeup!
————————————–
■ Story "light warriors"
This world is shrouded in despair.
Wind darkness, the sea rough, earth go rotten.
People believe in the one of the prophecy, I had been waiting for, "he".
"This world, when it Shi covered in despair
"Light of the Warrior" appears does "
End of the dark drifting, the past no young people
It drifted to this world "Paramitia".
One of them – a person who has a special name
It will be the light of the warrior.
What you none other is, it has the name of the light of the warrior
We woke up to Paramitia.
In the vast world that continues even where
What are you to see -?
————————————–
■ Supported OS
Android OS 4.0 or later
Mod info:
1. Instant Break Enemy
Root required? No, works on both rooted and unroot Android 2.3 and up
Downloads: [Google Play] – Japanese version

MOBIUS FINAL FANTASY v1.7.001 Mod APK | Mirror 1 | Mirror 2 | Mirror 3
[toggle title="Old Versions" state="close"]
MOBIUS FINAL FANTASY v1.5.040 Mod APK | Mirror 1 | Mirror 2 | Mirror 3
MOBIUS FINAL FANTASY v1.3.21 APK | Mirror 1 | Mirror 2

MOBIUS FINAL FANTASY v1.3.00 APK | Mirror 1 | Mirror 2 | Mirror 3
[/toggle]