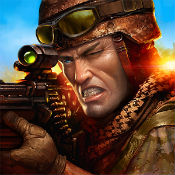 Mobile Strike v3.12.118 APK for Android.
Become an action hero like Arnold Schwarzenegger in the new game of modern war –  Mobile Strike! Build a base, control the action, and test your elite troops against enemies on the battlefield! With cutting-edge assault vehicles in your arsenal this worldwide MMO game tests your ability to wage a tactical and intelligent war.
It's not whose arsenal is bigger, it's whose arsenal is best! Design a customized base to reflect the kind of hero you want to be. Amass defenses to protect your base, or manufacture an arsenal unrivaled on the battlefield! In true MMO fashion you can join an alliance and bring to bear the benefits of a multilateral force as you dominate the action and become the Head of State in an entirely new kind of action game!
✔Join with millions of players from around the world
✔ Forge powerful alliances with elite players against formidable enemies
✔ Build and customize your base
✔ Engage with rogue war machines on the battlefield to collect items and experience
✔Train, level up and supply your commander with superior firepower
✔Use modern combat vehicles, artillery, and strategic units
✔Command 4 military tiers consisting of 16 troop types
Check out the elite new MMO Mobile Strike, a war game to end all war games!

What's New
Mobile Strike Update!
We've made several technical adjustments to vastly improve gameplay. Namely, they will benefit both particle performance and memory management for increased efficiency and lower CPU usage for devices. The game is also now reconfigured for Android devices, which will prolong battery life.
Enjoy these developments and keep dominating in Mobile Strike!
Download [Google Play]