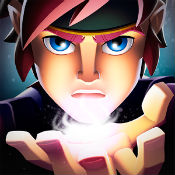 M&M: Elemental Guardians v0.99 Mod APK + DATA for Android.
Enter the world of Might & Magic: Elemental Guardians – a fast-paced strategy RPG based on the medieval fantasy realm of Might & Magic.
Journey through enchanted lands, collecting fierce and fantastic elemental creatures, and evolve a team of mighty warriors to summon to battle on the path to victory.
ENROLL IN THE ACADEMY OF MAGIC
• Create, customize and level up your own hero
• Choose a House of Magic: Materia, Chimera or Anima
• Use the mystic powers of your House to triumph in the arena
SUMMON A LEGENDARY TEAM
• Discover and collect hundreds of fantastic beasts and iconic creatures
• Watch their evolution from cute companions to legendary war allies
• Equip your team with arcane Glyphs to enhance their abilities
TRAINING & BATTLE
• Level up your creatures to unlock their true might
LEAD YOUR TEAM TO VICTORY
• Face fierce opponents in fast and strategic RPG battles
• Use the elements of Fire, Water, Air and Earth tactically to gain the advantage
• Cast epic spells and use magical abilities of different elements
BECOME A HERO OF LEGENDS
• Journey through the fabled fantasy realms of Might & Magic
• Complete diverse daily quests and earn special rewards
• Enjoy beautiful graphics and unique creature designs
Compatible with Android 4.4.2 and above.
What's New
Greetings Heroes!
We've made changes following your feedback:
• New Regions: World Tree Mountain & Colossus Desert
• New Creature: Angel
• New Evolutions: Witch, Ghost & High Priestess
• Polished art & improved UI
• Tweaks & bug fixes
Awaiting more feedback, Heroes!
Mod info:
1- x10 Damage
2- x10 Defense
(Apply to creatures only)
Download [Google Play] -(Unreleased)
M&M: Elemental Guardians v0.99 Original APK | Mirror 1 | Mirror 2 | Mirror 3

M&M: Elemental Guardians v0.99 Mod APK | Mirror 1 | Mirror 2 | Mirror 3

M&M: Elemental Guardians v0.99 OBB | Mirror 1 | Mirror 2 | Mirror 3