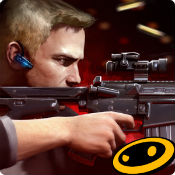 Mission Impossible RogueNation v1.0.4 Mod APK for Android.
Your mission, should you choose to accept it…
Infiltrate secure locations and eliminate high-profile targets, perform lethal strikes and confront the Syndicate across the globe.
This message will self-destruct…
TRACK THE SYNDICATE ACROSS THE GLOBE
Take out enemy agents, destroy rogue bases, eliminate the single high-profile target that matters most or silently/stealthily complete the objective in locations around the globe!
COMPLETE IMPOSSIBLE MISSIONS
Complete the mission objectives as you stop the Syndicate and assist the IMF. Stake out targets from long range, take them down with well-placed shots, assault enemy bases head-on or infiltrate enemy lines without compromising your identity
EQUIP ADVANCED WEAPONRY & GEAR
Load up on weapons like sniper rifles, assault rifles, heavy guns and gauss rifles then upgrade them. Don't forget to grab the latest gear as well like rocket launchers, throwing knives, med kits, armor, and more!
DESTROY ENEMY BASES AND DEFEND YOURS
Assault other players' HQ, steal their resources, and defend your IMF HQ against attack! Fortify your defenses with upgrades like drones to repel even the most stubborn attackers.
JOIN AND FORM AGENCIES
Form an IMF agency with other players and work together towards a common goal. Combine your resources to level up the agency and receive better rewards for all members!
High-end, immersive tablet gameplay!
Mod info:
1.Dll Prodection Bypass
2.Signature Bypass
3.God Mode *New
4.Anti-Damage *New
5.Damage Mod
6.Ammo Mod
7.Rogue2-Rooted
8.Rogue2-signed
9.Crit Mode
10.Damage Multiplier
11.TargetColor – Yellow New
12.NormalColor – Cyan New
13.Blood – Scale Mod New
14.Memory Hacking – Untested
15.Works Perfect PVP / God Mode
After loading Config restart you're game+
Download [Google Play]
RogueNation v1.0.4 Mod APK – Root | Mirror 1 | Mirror 2

RogueNation v1.0.4 Mod APK – No Root | Mirror 1 | Mirror 2