Description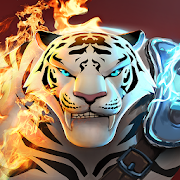 Might and Magic Mod APK download for Android.
A UBISOFT GAME
Enter the world of Might & Magic: Elemental Guardians – an epic strategy RPG in the fantasy universe of Might & Magic.
SUMMON LEGENDS
• Collect & summon hundreds of epic creatures and monsters
• Marvel at epic evolution of loyal companions to war legends
• Evolve to Heroic Star to unlock true might
• Bring creatures to life with AR Mode (certain devices only)
• Equip your squad with Glyphs to enhance their force
BATTLE WITH MIGHT
• War with legendary monsters in RPG strategy battles
• Compete in the PvP Arena to rise to the next league
• Join friends in a Guild Raid to defeat huge bosses together
• Participate in Live Events to win epic prizes
EVOLUTION OF MAGIC
• Create & customize your own epic Heroes
• Strike with special spells to triumph at war
• Raid boss monsters with friends and legends
• Marvel at beautiful graphics and unique monsters
—————–
***Game compatible with Android 4.4 and above***
This app contains In-App Purchases which allow you to buy in-game currency. In-game currency can also be collected by playing the game without requiring any purchase.
Mod info:
1.) god mode
2.) massive damage
3.) dumb enemies
[box type="warning" align="aligncenter" class="" width="630″]
Warning:
1.) mod works everywhere, banning is your own risk
[/box]
Credits: BTG
Download [Google Play]