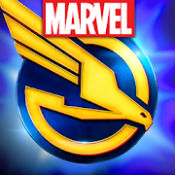 MARVEL Strike Force Mod APK latest version download for Android.
In MARVEL Strike Force, ready for battle alongside allies and arch-rivals in this action-packed, visually-stunning free-to-play game for your phone or tablet. An assault on Earth has begun and Super Heroes and Super Villains are working together to defend it! Lead the charge by assembling your ultimate squad, including Spider-Man, Doctor Strange, Groot, Rocket Raccoon, Loki, Elektra, Captain America and Iron Man, as you enter strategic combat against an all-new enemy threat. It's time to fight! Gather your squad and prepare for the battle to save Earth!
ASSEMBLE YOUR SQUAD
Recruit your strike force and form a squad of powerful MARVEL Super Heroes and Super Villains like Iron Man, Captain America, Loki, Elektra, Dr. Strange and more.
STRENGTH THROUGH EVOLUTION
Outfit and upgrade your Super Heroes and Super Villains to become stronger than ever before.
STRATEGIC DOMINATION
Who you bring to the fight matters. Pair up specific Super Heroes and Super Villains to perform combo moves to take out enemies. Expert in-fight tactics in 5v5 battles give you the power to vanquish the greatest villains of the Marvel Universe.
EPIC COMBAT
Experience groundbreaking gameplay cinematics, as your heroes unleash dynamic chain combos with a single tap.
STUNNING VISUALS
Play one of the most visually stunning mobile game experiences that has ever been released. Your Marvel Super Heroes and Super Villains look as close to life-like as possible on your phone!
Mod info:
How to install?
You need to bypass tutorial using play store original game first.
Login to your game and remember your login info
Uninstall your original game
Download and Install mod apk from link given below
Login to your game
Enjoy!
Install Steps:
0.) this mod only runs for rooted device for now!! Tested on Nox 6.6.1.1 Android 5 – your mileage varies on other devices
1.) uninstall GG or memory editing, they are not compatible with mod
2.) install original game from playstore, login, make sure you can get to your account !!!
3.) quit game, download mod, rename mod to "base.apk"
4.) copy mod and replace base.apk that exists in your /data/app/com.foxnext.m3-1/
5.) reboot your device
6.) play game. wait for half minute when you're in lobby. menu is no longer here, the gift is automatically applied.
Download [Google Play]