Description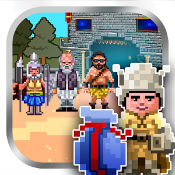 Many fine deals! v1.0.0 Mod APK for Android.
The bazaar is yours in this role reversal. No longer the adventurer you once were, you have made the decision to take a shot at being the supplier of arms, armour, spells and shields.
Roaming adventurers will enter your marketplace, looking for what they need to continue their trials. But they're impatient, they have quests to complete, spoils to seek, you'll need to act fast to serve them well.
Features:
– Upgrade your market with new shops, and shop upgrades to maximise your serving capabilities
– Use items to maximise your profits
– Employ and upgrade staff to handle the steady, impatient stream of adventurers
– Watch out for the legends, the VIP's, for big earnings
Download [Google Play]