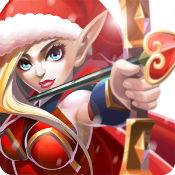 Magic Rush: Heroes v1.1.50 APK for Android.
Assemble your league of Heroes and charge into combat with Magic Rush: Heroes, an epic combination of RPG games, tower defence games and base building games. Magic Rush offers an amazing single player campaign, online PvP battles, multiple game modes and daily quests for tons of unique strategy gameplay scenarios!
Sculpt your warriors into champions through intense real time role playing combat! Adventure beyond the boundaries of your kingdom, and take your Heroes into combat against rivals in thrilling PvP battles. Play strategy games against player-controlled kingdoms as you vie for command of powerful resources on a massive world map. With epic kingdom defender battles and a hair-raising PvP Arena mode, cunning strategy and quick reflexes are a must!
Become a legend and earn glory as the greatest kingdom defender of all!
Magic Rush: Heroes Features:
War Strategy with 3 Epic Gameplay Styles
– Tower defence missions earn you extra loot to power up your Heroes as you defend your kingdom
– Real time RPG gameplay with innovative skill-aiming controls makes for a true test of skills in campaign mode
– Real time strategy combat breaks out on the world map – Choose an Alliance, expand your kingdom and battle for resources
Devastating Magic Spells
– Exert direct control over your magic spells with innovative Skill Aiming Controls
– Heroes each have their own Ultimate – master them all for true battlefield domination
– Strategy is key! Aim and cast your Ultimate at just the right moment
Defend Your Honor in the PvP Arena
– PvP combat yields earn epic rewards to winners
– PvP games in the Arena pit your Heroes against all comers
– Combat Heroes from all over the world and climb the leaderboards
Kingdoms at War in PvP World Map Battles
– Build strong alliances to battle enemies and chat with allies
– RTS games on a massive overworld let you capture mines and resources
– Strengthen your kingdom using Iron, Crystal, Silver and Medicine, and use those upgrades to power up your Heroes
– Your castle defence force is yours to customize! Three teams of Heroes defend your kingdom wall from enemy champions
– RTS combat lets you conquer enemy kingdoms, and eventually the world with your real-time strategic skill!
Heroes and Defenders are Upgradeable For Maximum Damage
– Role play and build your party how you want, from a huge team of characters
– Heroes evolve as you upgrade them with Runes
– Magic Wishing Pool gifts you new Heroes and special upgrades
– Strategy shapes how you level up your characters
Real Time Strategy RPG Battles Strengthen Your Team
– RTS and role playing games meet in unique battles on the frontlines
– War strategy with the newest fantasy RPG elements brings out the best of both worlds
– Charge the frontlines with melee Heroes, and send mages and ranged Heroes to the back.
Tower Defence from the Frontlines
– Tower defence side missions give you extra loot
– Magic spells and tower placements are manually controlled
– Tower defence with elements of real time strategy and role playing games as environments transform in real time
Charge into deadly role playing RTS combat with your customized team of Heroes. Defend your kingdom, crush your opponents in PvP battles, and rise to control the massive world map in this fantasy adventure game. Download Magic Rush: Heroes and become a champion today!
What's New
1. Added a new function – Alliance War Wager
2. All-new Tower Defense level – 8-6
3. Certain items in the bag can now be used in bulk
4. From now on, when contributing resources in Alliance Construction, as long as the queue is not full, players can continue contributing resources
5. Raised the value of items dropped in the Proving Grounds' Gold Trial, also higher level stages will drop higher value items
Download [Google Play]