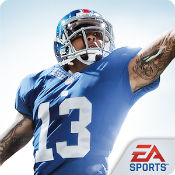 Madden NFL Mobile v2.9.5 APK for Android.
THE NEW MADDEN SEASON HAS ARRIVED! HIT THE FIELD IN BRAND NEW DAILY CHALLENGES AND RISE TO GLORY IN A FRESH SEASON.
Be the playmaker in an all-new season of MADDEN NFL Mobile! Become the GM of your favorite franchise and handpick your team of NFL stars and legends. Get in the game anytime, anywhere with Live Events and Head-to-Head challenges, or battle it out all the way to the Super Bowl. This is authentic NFL action like you've never seen on mobile. Your MADDEN Season starts now!
This app offer in-app purchases. You may disable in-app purchasing using your device settings.
UP YOUR GAME IN DAILY LIVE EVENTS
MADDEN NFL Mobile connects you to the NFL every day, all year long. Instantly tap into brand new challenges and incredible rewards every time you play with Live Events, in-season plays, and more – all based on the real NFL season. Now you can access Live Events even faster than last season with improved navigation and more challenges than ever before!
ASSEMBLE YOUR DREAM TEAM
Select your favorite NFL franchise and become the GM. Load your team with current stars like Odell Beckham Jr. and Rob Gronkowski, or blockbuster legends like Bo Jackson. Acquire real NFL players from the past and present by opening packs, or through the Auction House. Upgrade your roster your own way, then take your team out on the field to compete with friends.
MAKE WINNING PLAYS
Go big or go home in genuine 16-game Seasons mode. Be the playmaker and run your own routes as your favorite receiver, or play as the quarterback and lead your team to the Super Bowl. Compete against friends and rivals in Head-to-Head mode, or join a League and battle it out for gridiron glory. Plus, play quick Spontaneous Challenges in any mode for boosted rewards.
MADDEN NFL Mobile brings next-generation football action straight to your fingertips. Are you ready to rise to the top?
What's New in Madden NFL Mobile v2.9.5 apk
Hey, playmakers! Get your TD celebrations ready – fresh content is waiting in our latest update. Highlights include:
· New way to play: Now you can control blocking running backs
· League Quests: Team up with league-mates to complete challenges and accelerate your earnings
· Alternate uniform selections available to Prestige Level players (Level 50+)
· Plus, advances in presentation, account linking, and more
Downloads:
Madden NFL Mobile v2.9.5 APK | Mirror 1 | Mirror 2 | Mirror 3