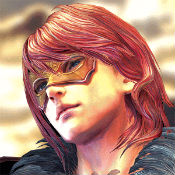 Lune of Eden v15.0 Mod APK + DATA for Android.
◈ unfold in various entertainment fields.
Please emotions with friends dancing around in different emotion.
If you like a friend, try a confrontation with PvP.
Performing under the Quest, it comes to compensation ssolsso ~ come.
◈ variety of battle modes
Raid boss people around the world! Who will catch the guy is terrific colossal!
Let's show off my skills? PvP War. (You can apply directly in the field)
Help me, O my party-boss encounter unexpected adventure! Not catch fades in time.
Where are my limits? Check out my skills through the infinite stage.
◈ Enjoy all the three kinds of characters.
We both Knight, Warrior, Mage three kinds of characters.
Do not need to grow as do personal preference before the glass broke boss Enjoy the charm for each character.
◈ enjoy spectacular battles with Full 3D
Enjoy the spectacular battle of skill and character in Full 3D graphics.
Mod info:
1. Massive Damage.
2. Unlimited Mana. [ Increases not Decreases ]
3. No Skill Cooldown.
4. Mobs Disarmed. [ No Damage ]
5. 100x Critical Damage. [ 100 * Massive Damage ]
6. Skill Damage Increased.
How to install?
1. Uninstall all previous versions.
2. Download Mod Apk and Obb.rar.
3. Install Mod apk.
4. Use RAR For Android or other programs to extract obb.rar into Sdcard/android/obb/ (Paste here).
5. Enjoy
HOW TO PLAY? MUST READ
1. After having completed installation instructions.
2. Open Game.
3. Play until you come to the point where it says maintenance is going on.
4. Quit the game, close it.
5. Restart the game and maintenance popup will be gone and you can play.
Download [Google Play]
Lune of Eden v15.0 Mod APK | Mirror 1 | Mirror 2