Description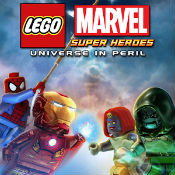 LEGO Marvel Super Heroes v1.11.1~4 Mega Mod APK + DATA for Android.
LEGO® Marvel™ Super Heroes: Universe in Peril features an original story crossing the entire Marvel Universe. Take control of Iron Man, Spider-Man, the Hulk, Captain America, Wolverine and many more Marvel characters as they unite to stop Loki and a host of other Marvel villains from assembling a super-weapon capable of destroying the world!
GAME FEATURES:
• Over 91 playable characters, such as Iron Man, Spider-Man, Captain America, Wolverine, and more can be unlocked as you progress through the game. Select character families can be accessed at any time through purchase via our in-game store.
• Complete 45 action-packed missions as you chase down Cosmic Bricks across key locations from the Marvel Universe
• Battle enemies using super power abilities such as flight, super strength and invisibility.
• Use fast-paced combat moves and activate Super Moves like Hulk's Thunder Clap and Iron Man's Arc Reactor.
• Complete challenges and earn rewards.
• Switch between "Console" and "Touch Screen" controls to find the play-style that suits you best.
NOTE:
This game is filled with many hours of content and cinematics that take up a lot of space! You'll need 2.2gb of available space on your device if you install over wifi, but only 1.1gb of space if you download on your computer and then sync.
As with many large app installations, we advise that you restart your device after installing as this will resolve some stability issues. Also make sure you have installed the most recent firmware.
No internet connection is needed to play this game.
If you are experiencing difficulties, please contact us at support.wbgames.com.
What's New
Bug fixes and optimizations to bring you an even better experience.
– Fixed the Nexus 7 crash and improved compatibility with other Android devices.
– Added Support for Immersive Mode (requires Android 4.4 or higher).
Hacks:
1. Unlock all characters
2. Unlock all moves & super moves
3. Unlock all extra packs
4. Unlock all minikits
5. Unlock all red bricks
6. Unlock all chapters and levels
7. Magnets always active
8. Stud multiplier
9. DRM removed
Download [Google Play]
Adreno:
LEGO Marvel Super Heroes v1.11.1~4 Mod APK | Mirror 1 | Mirror 2

LEGO Marvel Super Heroes v1.11.1~4 DATA | Mirror 1 | Mirror 2
Mali:
LEGO Marvel Super Heroes v1.11.1~4 Mod APK | Mirror 1 | Mirror 2

LEGO Marvel Super Heroes v1.11.1~4 DATA | Mirror 1 | Mirror 2
Tegra:
LEGO Marvel Super Heroes v1.11.1~4 Mod APK | Mirror 1 | Mirror 2

LEGO Marvel Super Heroes v1.11.1~4 DATA | Mirror 1 | Mirror 2
PowerVr:
LEGO Marvel Super Heroes v1.11.1~4 Mod APK | Mirror 1 | Mirror 2

LEGO Marvel Super Heroes v1.11.1~4 DATA | Mirror 1 | Mirror 2