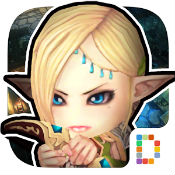 For each game run, dungeon map will change and player needs to control their character cleverly to pass rooms that are dominated by monsters.
Stages are unlimited and the real challenge is how far you can go in this game.
[Gameplay]
Control your character and clear stages
Power-up your character with money gained by defeating monsters
More and more powerful characters unlocked when you pass higher stages
■ Classes
New class will appear after a specific stage!
+ Silver Night
Swordman with vigorous body
Powerful attack moves
+ Elf Archer
Uses bow and arrows to attack the enemy
Can attack in specific range
+ Dark Magician
Wizard with ancient spells
Can attack in a wide area
+ Assassin
Killer of the night with super speedy moves
■ Power-up
Two types of upgrading your character:
1. Basic strength: can upgrade battle stats with money gained by defeating monsters.
2. Battle strength: during battle your character will get experience and may level up, as well as increase some of its stats. However these stats will only be effective during that battle, after that your character's level will be reset.
Let's challenge yourself with numerous stages and collect your own achievements!
Downloads:
Labyrinth of Battles v1.0.3 MOD APK | Mirror 1 | Mirror 2 | Mirror 3