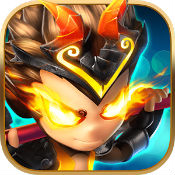 Kungfu Monkey-Global v1.5.0 Mod APK for Android.
"KUNG FU MONKEY",The First 3D mobile game about monster hunting, contains a complete growth system and various expanding systems. The original Monster Hunting system will bring you refreshing experiences with the beautiful pictures and various game systems
《Kungfu Monkey》The story takes place in a pedestrian after the Journey to the west, the player as a "man of destiny" will be involved in a deity, evil, Buddha,Three Realms confusion amazing battles; the game can be seen include "Journey to the West" and also includes a large number of Chinese historical legend of demons.
【Real Time Battle】
Each member of the two sides was the ability to start a thrilling exciting Fusion battle,more than 10 member of both side will be joining in the fight, dazzling skills to stunning the sense of player
【Combination Of Talisman 】
with a variety of combat tactics, and each has its own unique magic skills, use it in reasonable way is the key to victory!
【Catch Them All】
At Kungfu Monkey,the main way to get generals is to Capture Them, players can release the Buddha magic in the battle to capture the specified role
【Change Form】
During the battle, according to the role of the different players operate, morph into various forms. Evil bias on more attack skill, deity bias on more defend skill and Buddha bias on crowd control skill
【Become The Raid Boss】
Players can challenge the rankings and get the opportunity to become hidden Boss. After becoming Boss, can accept challenges from all the player and show your power.
【Unique Personality】
The game has up to 150 characters for players to choose from well-known Monkey King,Zhu Ba Jie,Tan San Zang and many more character to keep you occupied.
Mod info:
– Massive Damage
– Massive Defense
– Increase Dodge Rate
[ads1]
Download [Google Play]